Students bring awareness to assault
Dressed in however they chose,  protestors left Waterman Oct. 28 to demonstrate that clothing, or lack thereof, does not equal consent.
UVM SlutWalk was started by  Brianna Ball '18 in 2017. It has been run for the past two years by senior Riri Stuart-Thompson, a member of the Womyn of Color coalition.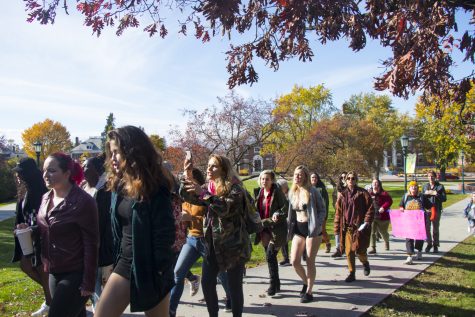 "SlutWalk is my baby," Stuart-Thompson said. 
The festivities began with an introduction speech by Stuart-Thompson at Waterman and mobilized into a protest that spanned across campus — even stopping traffic along the way. 
SlutWalk originated in Toronto, Ontario, after a police officer said that "women should avoid dressing like sluts"  to prevent sexual violence in 2011. 
Marches sprung up across the U.S., including UVM, to advocate for survivors of sexual assault.
Stuart-Thompson had to find ways to keep the day's activities fresh and interesting.
"Not a lot of people want to sit in a lecture. How do I make this event engaging?" StuartThompson said. "I tried to get every aspect of those three: domestic violence, sexual assault and gender inequality, into SlutWalk."
Stuart-Thompson said she was grateful to everyone who had attended but wished for more diversity in the crowd, particularly more men.
"I wish more men  of color showed up because [men] are the number one perpetrator [of sexual violence],"  Stuart-Thompson said. "That does not mean that men cannot get assaulted. There is just a higher chance that men are perpetrators."
Protestors were met in the Living/Learning Center Fireplace Lounge with speakers and activities related to sexuality and violence.
After the event, sophomores Morgan Williamson, Robert Lucas and junior Cat Lawrence discussed some of the difficult subject matter of the day. 
"[I was] super excited because I don't know as much about sexual assault and violence as I should," said Williamson, who is in charge of community outreach for the Womyn of Color coalition. 
Williamson is an RA and said they don't get enough training on how to handle sexual assault.  
"We are mandatory reporters [and] have diversity training for two days, but two hours of sexual assault training,"  she said. "[Sexual assault is] something we are much more likely to encounter on a daily basis on campus."
Williamson said that ending sexual violence requires structural change.
"It seems like an easy problem to fix, but it's like putting on a Band-Aid when the issue is systemic," Williamson said. "These institutions are not built for LGBT communities, people of color or women. The University system needs to be rebuilt."
Lucas said available resources for reporting sexual assault are a necessity.
"You are told that you have these things at your disposal, but you have to find it on your own," Lucas said.
The event ended with Lauren Williamson, of no relation to Morgan Williamson, debunking myths about the sexual community of BDSM, which stands for bondage, discipline, sadism and masochism.
 She gave a presentation that challenged ideas of violence in the community. She defines consent as informed, sober, enthusuastic and can be revoked.
Lawrence said that some acts of defending survivors aren't enough. 
"You can paint your nails and say you support women, but at the end of the day, it's about doing your own work," Lawrence said. 
Stuart-Thompson wants to see SlutWalk grow.
"I want it to be so big it fills the Fireplace Lounge," StuartThompson said. "Words cannot express how much I appreciate everyone."