Student game creators go to Boston conference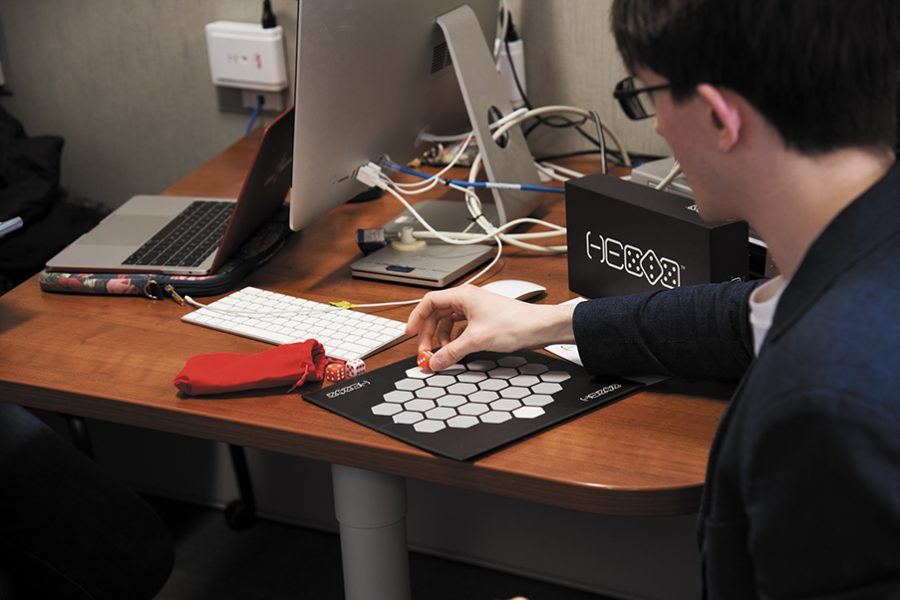 From game nights in Living/Learning Commons to a weekend of exposure and success in Boston, a UVM-based board game development team is taking their game to the next level.
A group of students traveled to Boston March 28 to 31 to present their game, Hexix, at PAX East, a massive gaming convention where developers of all sizes can showcase their projects.
At PAX East, Hexix was the best-selling game out of the 20 other games brought to PAX by Knight Moves Cafe, a gaming cafe.
Hexix was also the best-selling of the "True Indie" games, which are games that have not yet seen store shelves.
The team presented Hexix several times over the course of the convention, and their game was also available for attendees in a "free play" area.
Junior Brandon Levesque, head of operations for the Hexix team, said the game began as a collection of ideas from M. Stephen Walker, a former UVM student.
Hexix has a relatively basic concept; each player sets dice in a path across the board in order to claim their opponent's home space.
"We wanted something that was simple yet had some complexity to it, like chess or Go," Levesque said. "A lot of games that we were playing at the time were luck based, so we wanted to steer away from that."
To produce the game, the team uses an online supplier for boxes and game boards, custom dice, dice bags from an Etsy shop and a Greenfield, Massachusetts printing shop for rule sheets. All of these components are then collected and assembled by hand.
Levesque described the early interest that other students had in their game as a little hesitant.
"
"Most games nowadays are produced by some sort of large corporation, not just by one person or one small group. You don't see the personal connection with that."
— Brandon Levesque
"We had a lot of people on campus who were curious about what we were doing, but we were still early in development and we didn't quite know where it was heading," he said.
The Hexix team relied on both the UVM Gamer's Guild, a student club focused on board and video games, as well as UVM's Global Gateway Program, a program for international students to study at UVM.
The two organizations helped to expose the game to as many students as possible, Levesque said.
"Not only were they great at helping us practice presenting and explaining rules, but they really reaffirmed Hexix as a good idea before we brought it anywhere," he said.
Sophomore Dennis Zheng, one of the students that introduced Hexix to GGP Game Nights, commended the effort put into the game by its creators.
"I think the game is really well crafted," Zheng said. "It was definitely challenging, and I had to be very attentive and concentrate on it."
While the game is complex, first-year Stanley Chen agreed that it's well-designed.
"I think this game is wonderful," Chen said. "I have never seen this kind of game before. Players need to consider many rules while they are playing, and it needs a lot of attention and patience."
Levesque said being able to present at PAX as a small group of indie developers was really beneficial.
Even though the event was primarily about marketing and getting the Hexix name out into the open, Levesque emphasized building a lasting connection with PAX players and fellow creators alike.
"Most games nowadays are produced by some sort of large corporation, not just by one person or one small group," he said. "You don't see the personal connection with that. When it was just our team presenting a game, we were able to develop a lasting connection with players. "
To any students who have an idea they want to spread, Levesque recommended that they go for it, but he emphasized finding a balance between being committed to pursuing your passion and overworking yourself.
Levesque said the Hexix team plans to create more games in the future.