UVM Concert Band masks-up, plays on
When senior Kyra Johnston took out her trumpet for her rehearsal, she never thought it'd be from the comfort of her bedroom.
Concert band is back in session on campus this semester. Rehearsals are held in the Southwick Ballroom, though not every participating student can be found there come class time. Students also play in practice rooms or in their dorms, tuning into the rehearsal via Teams.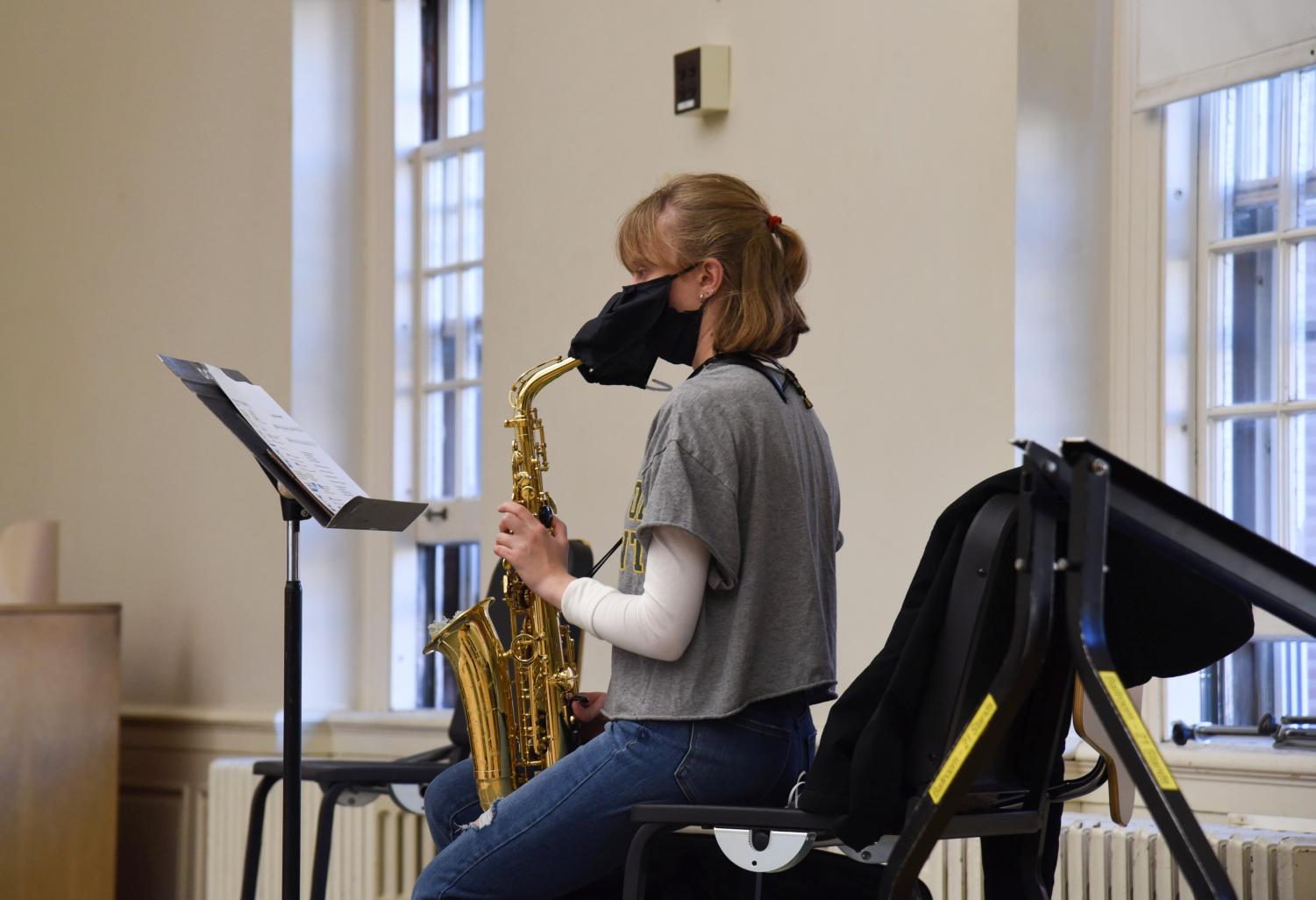 Johnston spoke about the numerous policies that musicians must adhere to while in the ballroom. 
"We have the rehearsal broken up into two sections, with a half an hour in between to air out the room," Johnston said. "Everyone is seven or eight feet apart."
She went on to mention that all the wind players have to wear special masks with holes cut in them, so that aerosols, a fancy word for spit, can't be dispersed out of the corners of their mouths as they play. 
Not only that, but all wind instruments except flutes have to have bell covers, which is essentially a mask that they spread over the end of their instruments to prevent aerosols from being projected out of the instrument itself. 
Senior percussionist Luke Nawrocki spoke about the adjustment to playing music in a COVID world, but clarified that things straightened out pretty quick. 
"It's been a rocky start for some ensembles," Nawrocki said. "But I think everyone's starting to get on a page where things are going well."
Making music competently is a task made monumental through adhering to COVID rules. Johnston said, when the music necessitates the musicians to inhale hard and fast, you run the risk of inhaling the mask instead of air.
More than just the physical consequences is the struggle of making playing in the band feel like playing in the band, said D. Thomas Toner, former chair of the music department, now professor and conductor of the Concert Band. 
"One of the reasons that a lot of people play in bands is the camaraderie. And when you have fewer people, there's no way around it not being the same," Toner said. 
Johnston said that she felt very isolated from the rest of her fellow trumpet players this semester. 
"One of the things that I'm sad about this year is the fact that we can't have sectionals with the trumpet section," she said. "I feel like I haven't been able to get to know any of the newer students."
Toner echoed this sense of detachment.
"I think it's inevitable. It's not like it used to be. It doesn't have that connection that it usually would," he said. 
Toner said his hopes were not high for the remainder of the semester. He said that there was an element of newness to playing in a COVID world that made it suck a little less. 
However, things have now changed. 
"After about a month in, the thrill is gone. All the newness is gone. And it's drudgery for me from here on in," Toner said. 
Toner's bleak view of the future of band has not swayed the optimism of his students. 
"It makes me happy to see that the ensembles in general are taking as many precautions as they are." Nawrocki said.