Burlington's DIY Basement Shows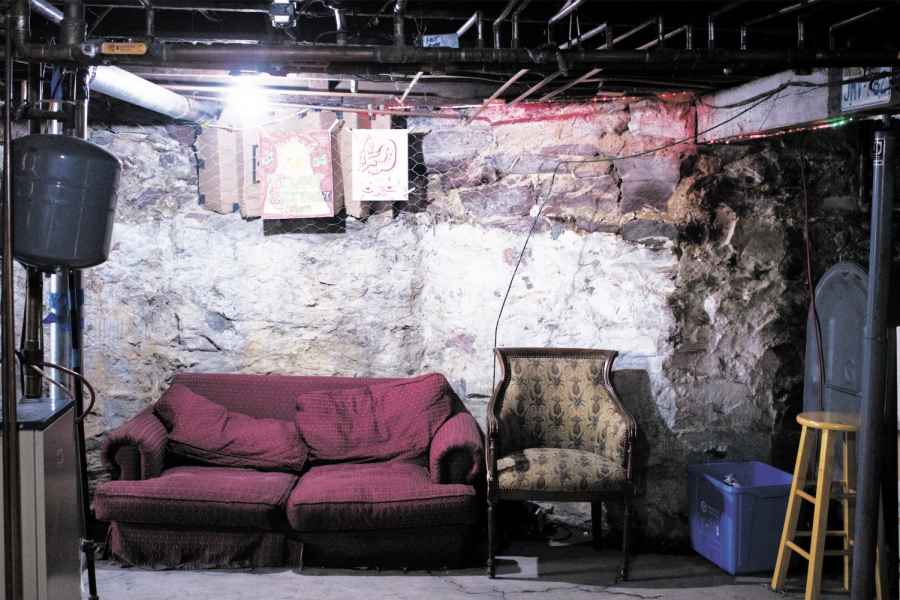 Zoe Schemm, Feature Writer
April 17, 2019
They say if you want something done right, do it yourself.
This sentiment finds real world applicability in do-it- yourself venues, establishments with the space and equipment for live music that do not function in the same legitimate arena as official clubs or concert halls.
Often taking place in student basements, DIY shows require little more than four stone walls and a sound system. They can be anything from one raucous party to a dedicated venue with regular shows and an intense fan base.
Two up-and-coming venues on the Burlington DIY music scene are the Lip and the TrapDoor. The Trap Door is run by the arts collective BadArt, a student created organization focusing on do-it-yourself art in Burlington.
The undefinable nature of a DIY venue makes it difficult to pin down exact numbers, but the Trap Door and the Lip both started showing music this summer, joining the ranks of four or five other active basement venues in Burlington, according to senior Jacob Hartman.
The Trap Door is run by senior Jacob Hartman, junior Max Mitiguy, first-year Natalie Mitiguy and senior Katie Kobylaski.
The Lip is run by senior Brandon Sabino and Senou Lynn '18.
Before becoming the Lip, Lynn said their house served previous DIY duty as the Handsome House and Anime Highschool, revealing the constantly evolving face of the DIY scene in Burlington.
It's always changing, the iterations of the DIY community," Hartman said. "Its kind of all over the place because you're just doing what you want to do, what makes you and your friends happy."
The Trap Door and the Lip both hold shows about once a week. As the venues have become more established, they now require a cover, usually $5 per show.
Hartman said the Trap Door recently gave a portion of show proceeds to a local homeless man in order to buy him tools for odd jobs over the summer.
The Lip has a similar community-oriented ideology, with plans to create a female artist showcase, the proceeds of which will be donated to Planned Parenthood or another women's health organization.
While creating the Trap Door, the BadArt team found help from Big Heavy World, a defacto music development office for Vermont, based in Burlington. This volunteer-run organization promotes original Vermont music through radio stations, documentaries and other projects.
Jim Lockridge, the executive director of Big Heavy World, said he has a soft place in his heart for basement venues.
"DIY is an expression of punching through bullshit," he said. "The unfortunate outcome of [the necessity for DIY shows] ends up being kids at shows where liquor's pretty cheap … there's liability that can come with it."
The BadArt team came into contact with Big Heavy World at a community DIY meeting that emphasized the possibility of sexual assault in illegitimate venues, Hartman said.
Natalie Mitiguy, a promoter and master of ceremonies for the Trap Door, stuck up for DIY shows.
"Walking into a DIY show, there is that general environment where we're all here to listen to the music and get crazy, but in a respectful way to make sure everyone's comfortable," she said.
In some ways, the illegitimate nature of DIY shows can act as a positive, allowing expression for kids of all ages when other music venues have age restrictions or limits on the number of people they can admit beyond the fire code restrictions in residential neighborhoods, Lockridge said.
Lockridge said that in the '90s Burlington developed regulation preventing some venues from having all-ages shows.
"The rule they made was, for every 25 people that showed up to a bar … the bar had to hire a dedicated security staff member," he said.
These restrictions kept a younger generation of people from venues with the official infrastructure for live music, a reality that may have led to increased interest in less legitimate shows, Lockridge said.
Max Mitiguy, a bouncer at the Trap Door and the financial brains behind BadArt, attributes the popularity of the DIY scene to a special Burlington flavor.
"Burlington, at large, really fosters … a hippie-outlaw type vibe," he said. "You know people are really into drug culture and partying and DIY and that's part of the whole aesthetic."
The DIY scene has significance far outside of Burlington, with the Trap Door hosting bands from as far away as Miami, and the Lip receiving inquiries from bands located in Ireland.
Even within the confines of Burlington, the DIY scene extends far beyond just music. Student-run organizations like BadWill create pop-up thrift stores, while A Really Good Tramp Stamp brings tattooing back to stick and poke basics.
DIY is also focused on visual arts, with a few pop-up galleries organized under the name Alibi Hour and some visual artists being represented at the Lip.
However it manifests, DIY has been a part of the Burlington art scene for decades. This medium for expression may not be new, but venues like the Trap Door and the Lip demonstrate its constantly evolving face and relationship with the Burlington community.