Dinner and Dialogue: Gathering for gratitude at the UVM Interfaith Center
Separated into four tables, Dinner and Dialogue attendees discussed gratitude, spirituality and unusually warm weather over plates of lasagna.
These dinners, hosted monthly at the UVM Interfaith Center, foster an environment that sparks discourse and encourages attendees to be openminded.
The Interfaith Center, located at 400 S. Prospect St., serves as a multipurpose center in which students can study, meditate and pray.
The center also hosts many faith-based and student-run events.
These events are a venue for open discussions regarding religion, spirituality and philosophy. Each dinner has a different theme, but this year's overall theme is joy.
The spacious interior was warmly lit the night of Feb. 7, with music softly playing. Reverend Laura Engelken, the head coordinator, welcomed each attendee as they entered.
Guests enjoyed a spread of  vegetarian fare along with cookies and tea.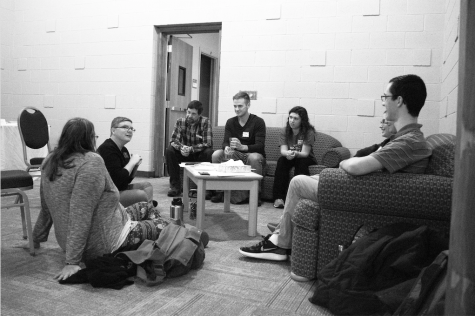 Before the conversation about gratitude began, attendees murmured about what brought people to the dinner on the brisk Thursday night.
Explorations of the topics discussed at Dinner and Dialogue are often overlooked by students on campus.
"I did homework in [the Interfaith Center] for a while and decided to join," Sophomore Kristin Ketterman said. "I wanted to talk more about my beliefs, but my friends and I never really talked about it."  
Ketterman's personal experience illustrates the reason these dinners began.
"[The Interfaith Center is] a place for all of us to grow and learn, speak with 'I' and allow others to speak as well," Interfaith Center Facilitator Jamal Davis Neal, a senior, said.
The Interfaith center provides a safe, comfortable space for all ranges of discussion, and these dinners specifically cater to those who have never spoken about such topics before.
Similar to Ketterman, Interfaith Facilitator Caroline Sheehan, a senior, wanted to learn more about religions, ideologies and perspectives other than her own, which stemmed from her experiences attending church growing up.
"Some words that come to mind surrounding this center are security, community, gratitude and connection," Sheehan said.
Her emphasis on gratitude aligned with the attitude of the room since the discussion was rich with acknowledgments of thankfulness.
Each thought was received and accepted by everyone in the room.  
The broad definition of the word gratitude was explored, with each person sharing their own personal perspectives on the practice and how it infiltrates in their day-to-day life.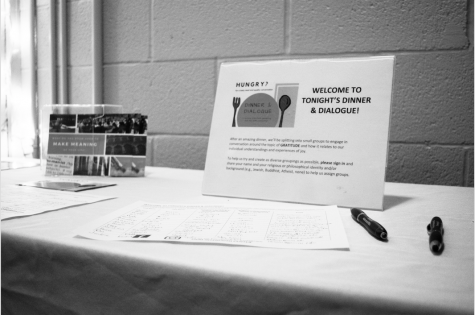 "Gratitude can only be shared authentically, and expressing gratitude is an easier way to be vulnerable in life," senior Miriasha Borsykowsky said.
Most who attend Dinner and Dialogue are UVM undergraduate students, but there are also many people from the Burlington community at the monthly dinners.
Sheehan said that the diversity of religion, race and background among the guests illustrated the true "opportunity for exploration" at the event.  
Once dinner was finished and cups of tea had been consumed, the mood of the event pivoted from expression to reflection as everyone gathered to the center of the room, forming a large circle.
Looking from face to face, Reverend Engelken thanked everyone for coming, bringing a positive, gracious end to the event.
The dinner allowed each person to share their thoughts, outlooks and questions, providing every individual to absorb unique perspectives they would never have encountered otherwise.
Other than reminding the first-time attendees of what they're grateful for, the dinner introduced them to a new world of acceptance, knowledge, and philosophical thinking, all found at the UVM Interfaith Center.

The next date for Dinner and Dialogue at the Interfaith Center is March 7.
The theme of this dinner is compassion.
Dinner is free, and those interested in attending can RSVP to [email protected]
About the Contributor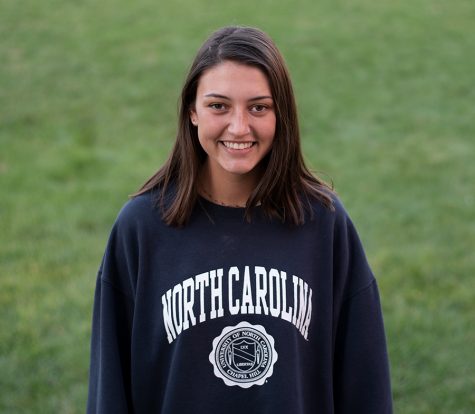 Greta Rohrer, Feature Editor
Greta Rohrer is the Feature Editor for The Vermont Cynic. She is a sophomore sociology and psychology double major, and is from Philadelphia, Pennsylvania...