There's only one thing cooler than having a tattoo: having a tattoo on a college campus. 
However, with tuition high and wages low, many UVM students are rejecting traditional body art methods and taking the more cost-effective route: altering their appearances amongst themselves. 
Whether it's piercing or poking, it's easy to find a student on campus willing to meet the needs of their growing collegiate clientele. The catch is that many people cannot look at this ever-expanding arts scene without also envisioning the associated risks.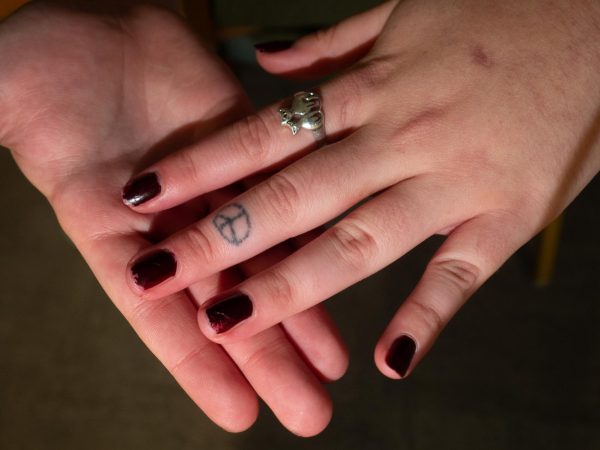 However, for 19-year-old Caitlyn Clough, a local Burlington artist, safety has never been an issue. 
"I have 43 tattoos on my body currently," Clough said, "and I'm just hustling from my bedroom." 
Clough has been tattooing recreationally since she was 16, starting out with pen ink stick-and-pokes, working her way up to professional-grade needles and an actual tattoo gun, she said.
Despite her lack of in-studio experience, Clough says she pays close attention to hygiene. 
"When I'm giving people tattoos, I make sure to show them that everything is clean and sterile. I'm wearing gloves and constantly changing out my gloves, along with the needles," she said.
Unfortunately, not every unlicensed artist is as dependable, Clough said.
"I've heard horror stories of people having their skin almost melt off from bad ink," she said. "If they say they bought their ink off of Amazon or from shady websites, you shouldn't let them continue…it's a lot of looking out for the little things." 
Even in the professional body art scene, safe business practices can be difficult to count on. Sophomore Alexandria Lisch has close to 1,000 hours of professional piercing observation under her belt and she opened up about her six-month experience at Body Art Tattoo, which is licensed in Burlington, she said.
Body Art Tattoo has no record of her unpaid apprenticeship with them, despite her completing five out of six months of the apprenticeship, she said.
By the time Body Art officially denied Lisch her license, she was working 25 hours a week at their store, Lisch said.
"I know everything a professional piercer should know," Lisch said. "But according to the shop, I never worked there." 
This is by no means a new phenomenon: taking advantage of young apprentices is commonplace within the body modification scene, and it's something of an industry standard, Lisch said. 
Lisch didn't see any major discrepancies between the mistakes that could be made in a professional versus unprofessional body art setting. Over the course of her apprenticeship, she described witnessing multiple health and safety code violations, as well as people receiving the wrong piercings and then not being compensated. 
"If I had to estimate, I've done about 50 piercings," Lisch said, "and things are bound to go wrong."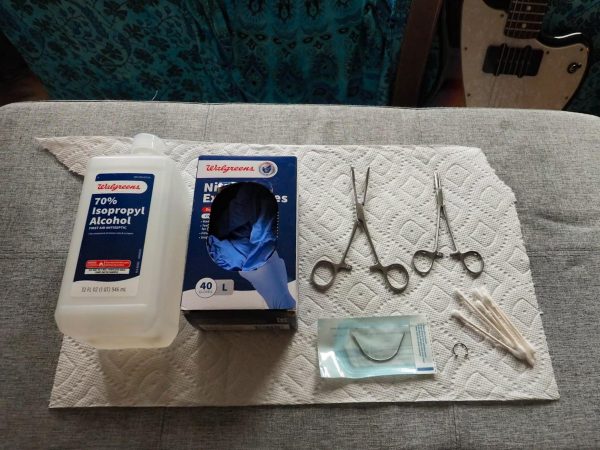 Lisch performed a nose piercing with a needle that was slightly below regulation gauge, and had to re-pierce her client's nose to get the stud to fit through, she said
"It was a manufacturing issue, and it's bound to happen," Lisch said, "it's just about how you fix it as the piercer."
Lisch's biggest piece of advice is to be familiar with the body modification process, regardless of where the procedure is happening.
"There are always going to be sketchy 'professional' places," Lisch said. "Don't be afraid to stop your piercer, professional or not, if you see that they're not using gloves or properly sanitizing their equipment."
Storefront—or lack thereof—aside, piercings and tattoos can be an important form of self expression for artists and clients alike. When asked about her star stick-and-poke, Sophomore Mia Kalish said it felt pretty sanitary, despite taking place on a towel in her bedroom.
"It was an overall great experience, and a memory I'll cherish forever." Kalish said.
Tattooing other people is not only a form of self-expression for Clough, but also a useful way to cover scars from surgery, self-harm or abuse, she said.
"It's the idea of taking something you once hated, and turning it into something you can love," Clough said.
For Clough and her clients, body modification continues to be an important form of art and self-expression—just so long as it's done safely, and without any pen ink.