Editor's note: This story was updated November 3 at 12:43 p.m. to correct statements made by Llanos.
Walking through the Davis Center tunnel, the music booming through the speakers is difficult to ignore. Signs overhead read, "WRUV 90.1 FM Burlington's Better Alternative." 
In the early '50s, WRUV began as a UVM student club, according to WRUV. Today, Burlington community members and UVM students alike broadcast their favorite tunes, ranging from country to hip-hop to classic rock and even Broadway hits.
"WRUV is a student-run radio station, partly funded by UVM, partly funded by listeners and fundraising from the community," said junior Chris Llanos, WRUV station manager. "It's a non-commercial station, so there are no ads that run, apart from the educational bits at the top of every hour."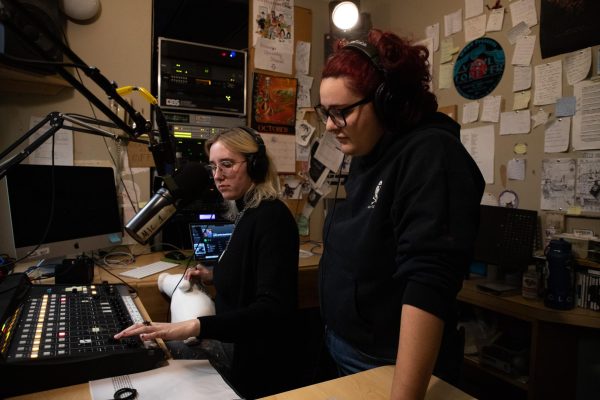 Sophomore Zoe Shapiro listens to WRUV to support her roommate's show, while also discovering new music from other DJs, she said.
"I think it's interesting to see what people like to listen to, and it lets me find new music that I probably otherwise wouldn't ever hear about," Shapiro said.
But before a DJ can connect their computer to the booth and broadcast their current favorite hits for the community, DJs must go through an extensive training process, Llanos said.
DJs first attend an interest meeting at the station to learn further details and then go on a tour of the station, Llanos said. 
"You then have to make a demo tape, which is basically a mini show, to prove that you know what you are doing," Llanos said. "And, there is an exam that must be taken."
Once the prospective DJ has passed all their training, DJs must complete four "graveyard" shows between the hours of midnight and 6 A.M. If all goes well, the following semester, the DJ will have their own show, Llanos said. 
"No prerequisites or experience is needed to become a DJ at WRUV," said junior Emma Kane, WRUV music director. 
Kane said that in recent years there has been a steady increase in people interested in training and becoming a DJ.
With 82 DJs currently at WRUV, there are 22 spots ready to be filled with aspiring DJs that have completed training this semester, said sophomore Ava Pilkington, WRUV program director.
UVM students are not the only people that have the opportunity to be a DJ; community members can as well, Kane said.
"We have a lot of DJs that are community members. They have their own show and come to monthly meetings, but they are members of the Burlington community, not UVM students," Kane said.
The involvement of the Burlington community creates a diverse age range ranging from students to a few folks in their late 60s, Kane said.
"Even after students graduate they will often stay on as DJs," Llanos said. "The Purple Shaman, Ben Roth, is a recent graduate who remains a DJ."
During their show, DJs have the ability to play whatever songs they choose that are within the WRUV guidelines listed in the station manual. 
"One quarter of all songs on the show must be from WRUV's new music library," Kane said. 
Any song from the Billboard Top 100 cannot be played, nor can any song that comes from the Global Music Rights Catalog, according to the station manual. 
"Any song that has ever been in regular rotation on commercial radio stations, cable outlets, Youtube, and other social media cannot be played," according to the station manual.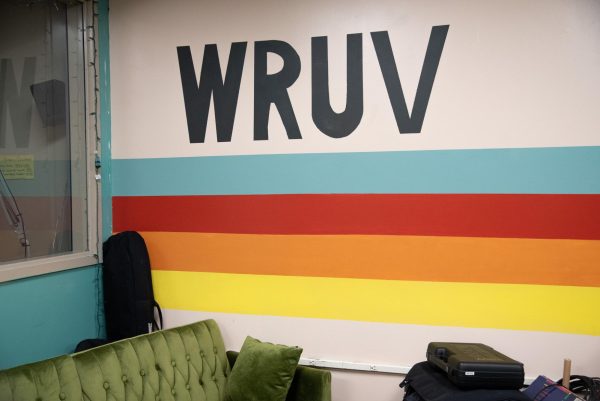 Sophomore Meredith Williamson, "DJ Mer," has enjoyed getting to play some of her favorite songs but has also enjoyed playing songs written by students , she said.
"I hope to continue to provide student bands and student artists a bit of exposure. It gives me a good feeling when I get to be the person that puts their stuff on the radio," Williamson said. 
WRUV has also recognized the large population of talented student bands and artists at UVM. 
WRUV Exposure occurs every other Wednesday from 6-8 p.m. Local bands come into the station, they play live music and then the DJs have the chance to interview the bands and artists, according to Llanos. 
"WRUV is just great because we—the student and local bands and artists, DJs, members of the community, students—can talk about and share our love for music on air," Kane said.