Board of Trustees to meet Oct. 26 to Oct. 27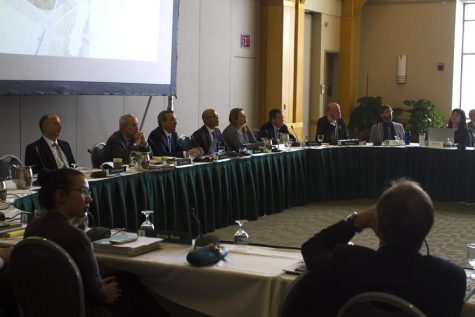 The decision making body of the University is meeting this Friday and Saturday to discuss and vote on the future of University policy, including the renaming of the Bailey/Howe Library.
The board of trustees, who will be holding their biannual meeting Oct. 26 and Oct. 27, is the governing board for UVM, holding the ultimate responsibility for the University's management and operations, according to the board's website.
Some of the topics that will be discussed at the meeting include removing former University President Guy Bailey's name from Bailey/Howe Library, approving campus construction and adding new academic programs.
The renaming committee, created by the board last spring, released a report Oct. 16 recommending that Bailey's name be removed from the library, according to an Oct. 19 Cynic article.
The proposal to remove the former president's name was made by professor Jackie Weinstock because of Bailey's direct support and funding of the eugenics movement in Vermont, according to the article.
The board will be voting whether to approve the removal of Baliey's name Oct. 26.
A project update will be given for the new Athletic campus multipurpose center project, which was first proposed in February 2017.
The board will be voting on approving an increase of 3.75 percent for the cost of room and board, and a 3.5 percent increase for the cost of a meal plan.
Normally the cost for meals and room and board are not voted on until the February meeting, but changes in federal policy have allowed for the vote to be made in October, which will allow the University be more competitive when recruiting new students, according to the board book.
Another topic of discussion will be maintenance to McAuley hall on Trinity campus, including renovations to the roof and removing asbestos.
The McAuley renovations were approved last fall, but the administration is requesting an increase in funds from $3 million to $6.1 million to cover the additional work.
The board will also be voting on approving six new academic programs, including a minor in American Sign Language and a PhD in Physics.
The board's meeting will also include reports from SGA President Ethan Foley, a junior, and Graduate Student Senate President Joey Campbell.
Foley will be talking about SGA's initiatives for the year, which include the creation of a UVM food pantry for students living with food insecurity as well as affordable housing, student health, climate change, academic opportunities and social justice.
Campbell will be discussing the GSS's goals and initiatives for the upcoming year, which include working on affordable housing, family and maternity leave and community outreach.