Breaking: Students rally in front of Waterman, demand Campus Climate data
UVM students and staff members rallied outside of Waterman building to push the administration to give students all of the Campus Climate Survey data.
The protest, led by student activist groups NoNames for Justice and Queer Student Action, was a response to UVM administration failing to address concerns over injustice and white supremacy on campus, said junior Harmony Edosomwam, a leader of NoNames, as she addressed the crowd.
"Injustice still persists," she said. "Many UVM students feel like UVM is not an inclusive and accepting campus for them. Just a few weeks ago white supremacist propaganda was found on our campus."
Edosomwam told the crowd she understands and sees that UVM is moving in the right direction, but only when the administration listens to the students.
"UVM is heading in the right direction, but this only happens when the voices of student leaders and marginalized communities are actually being listened to," she said.
Edosomwam and leaders from GSA met with UVM President Suresh Garimella and Interim Provost and Senior Vice President Patricia Prelock Sept. 23, after the groups called for them to release the full climate data.
That afternoon, Wanda Heading-Grant, vice president for Human Resources, Diversity and Multicultural Affairs, released a three-page summary of the Campus Climate Survey that stated more data will be available online starting Sept. 27.
But the meeting with Garimella was not fruitful, Edosomwan said.
"It's understandable that you [Garimella] just got here and you're trying to figure things out," Edosomwam said. "However, you chose this job and you should have gotten familiar with what the fuck is going on, on this campus."
On the other hand, Edosomwan said she and others understand that UVM administrators are generally nice people, but have a job to do.
UVM administrators stood at the edge of the crowd, watching and listening.
Vice Provost for Student Affairs Annie Stevens said she still needed time to reflect on what she saw, but is "always happy," to see students speak out against what they see as wrong.
This article may be updated as more info becomes available.
Leave a Comment
About the Contributor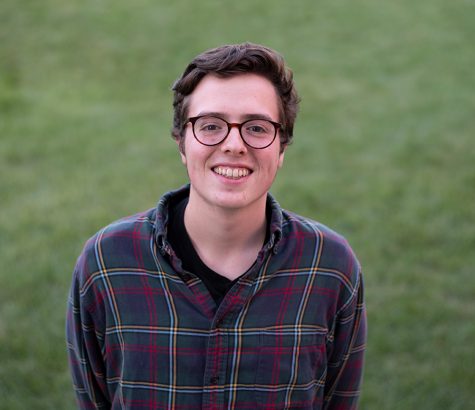 Sawyer Loftus, Editor-in-Chief
Sawyer Loftus is the News Editor for the Vermont Cynic. He is a junior History major with a passion for News. This past summer he was an intern in the...