UVM Police find multiple 'white nationalist hate group stickers' around campus
White nationalist stickers and posters have once again been plastered throughout the University of Vermont's campus.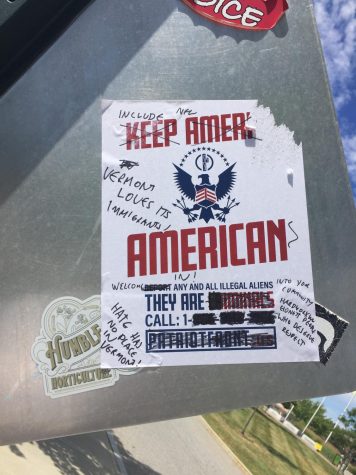 UVM Police Services have found multiple stickers and posters from the group Patriot Front, a group designated by the Southern Poverty Law Center as a "white nationalist hate group." Stickers and posters found around campus read "Keep America American" and "Better Dead Than Red," according to UVM Police.
At least one sticker was found outside the Davis Center, UVM's student center, but as students passed by they responded to the posters by leaving their own messages supporting undocumented people.
In a statement, the university denounced the stickers.
"The Southern Poverty Law Center has designated Patriot Front as 'a white nationalist hate group.' We denounce its racist ideology and tactics, which deliberately target people of color and run counter to our core values as a University community."
This story may be updated. 
Leave a Comment