Candidates for governor do meet and greet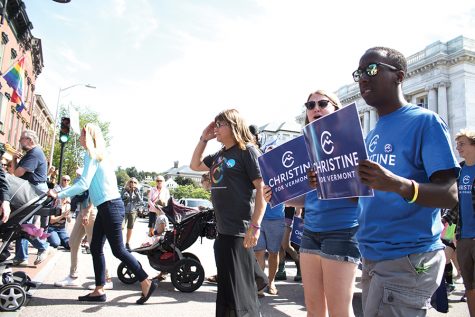 Alek Fleury
Two Vermont gubernatorial candidates convened Oct. 17 in Brennan's for a meet and greet with UVM students.
At the event, students were given the opportunity to ask questions to gubernatorial candidates Christine Hallquist and Trevor Barlow. Questions ranged from what issues they believe college students should focus on to how mental health services can be better supported.
Opportunity for voter registration was available on computers in Brennan's, said senior Maeve McDermott, chair of the committee on legislative and community affairs in SGA.
Another meet and greet will be held at UVM on Oct. 30 with Charles Laramie and Phil Scott, two candidates for Vermont Governor, McDermott said.
The event was put on by the Student Government Association to encourage students to vote in the Nov. 6 election and to provide them a chance to learn about who is running, McDermott said.
Hallquist, the democratic candidate, was the former CEO of Vermont Electric Cooperative and is the first openly transgender candidate to win a major party's nomination for governor. Barlow, an independent from Springfield, has spent his career working within the innovation and startup field.
Hallquist spoke to students about how the cost of college was an issue that would have the greatest effect on current university students.
"College debt is the number one thing that you need to focus on," Hallquist said. "Changing the laws federally and working towards free college are two key things that need to happen."
Barlow added that college students should be most concerned with how to create a more sustainable world.
"If you look at the world through the lens of sustainability, that's going to be the best way to not only make an impact on the world, but to ensure that the world that you're growing up in is better than the one we appear to be living in," Barlow said.
Mary Cox, a Burlington resident and member of the National Alliance for Mental Illness of Vermont, said she felt the need to come out to ask the candidates about their thoughts on support for mental health services.
"Spending money on the proactive side of mental health is much better than spending it on the reactive side which is incarceration," Hallquist said. "We need to think more about restitution opposed to revenge,"
Barlow discussed the importance of taking a localized approach to mental illness by putting clinics into schools.
"I think it gets down to saying if we create these clinics then we will find out which communities have which needs and then we can address how they need help uniquely for their situations," Barlow said.