Catamount Country honors basketball all-star alumni T.J. Sorrentine and Taylor Coppenrath
Catamount country erupted in applause as the two newest banners sailed up into the rafters Saturday night, Oct. 26.
The banners displayed the numbers 11 and 22, those of T.J. Sorrentine and Taylor Coppenrath, two UVM men's basketball players from the class of 2005.
The jerseys were retired before the start of the men's varsity basketball exhibition game against Brown University.
The pair received a standing ovation and eruptive cheering as they entered Patrick Gym. Both Sorrentine and Coppenrath were joined by their families and other former teammates for the evening's ceremony.
Athletic director Jeff Schulman said during his speech that Sorrentine and Coppenrath are among the greatest to ever wear green and gold.
"These two Catamounts have clearly left an indelible mark on our basketball program, our University and the entire state of Vermont," Schulman said.
Sorrentine and Coppenrath's accomplishments include three consecutive America East championships.
They also secured a postseason win against higher-seeded Syracuse University in 2004, Schulman said.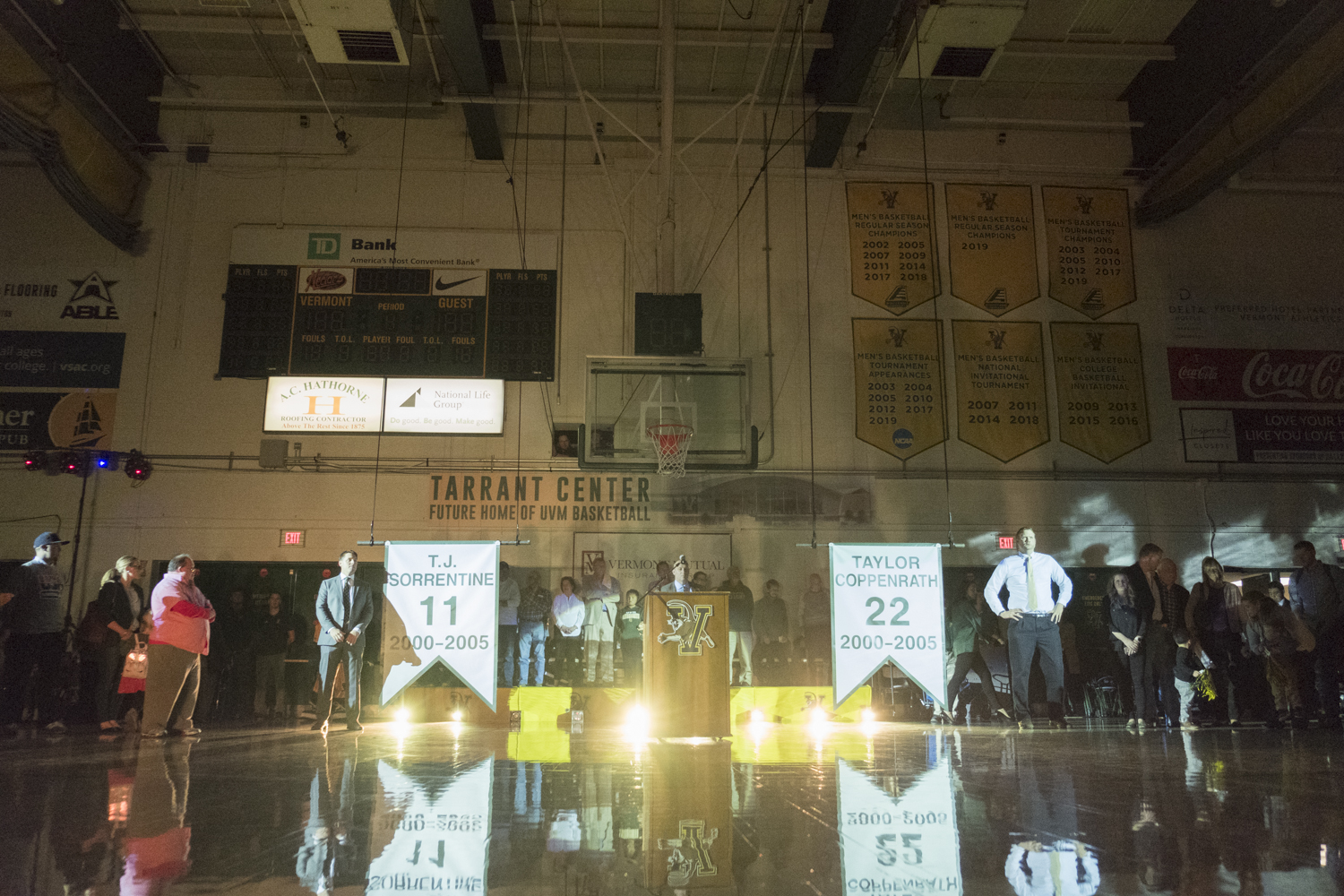 UVM President Suresh Garrimella, head basketball coach John Becker and Schulman presented the former players with framed banners with their jersey numbers in recognition of their accomplishments.
"If the goal was to make me and Taylor feel special, this is a grand slam," Sorrentine said.
Sorrentine next spoke about his now well-known nickname, "T.J. from the parking lot."
He acquired it after hitting a deep 3-point shot, which led to the first men's basketball postseason win in the program's history.
Following his UVM career, Sorrentine played in Europe and in the NBA Development League before beginning his coaching career.
Sorrentine became a member of the Brown University coaching staff in 2008. He is now Brown's associate head coach of men's basketball.
He felt thrilled and honored to have his players present to witness the ceremony, he said.
"We're going into the rafters alongside some incredible athletes, but more importantly, incredible people," Coppenrath said.
The players Coppenrath referred to are Eddie Benton '96, Karalyn Church '00, Sheri Turnbull '94, Kevin Roberson '92 and his late teammate Trevor Gaines '02.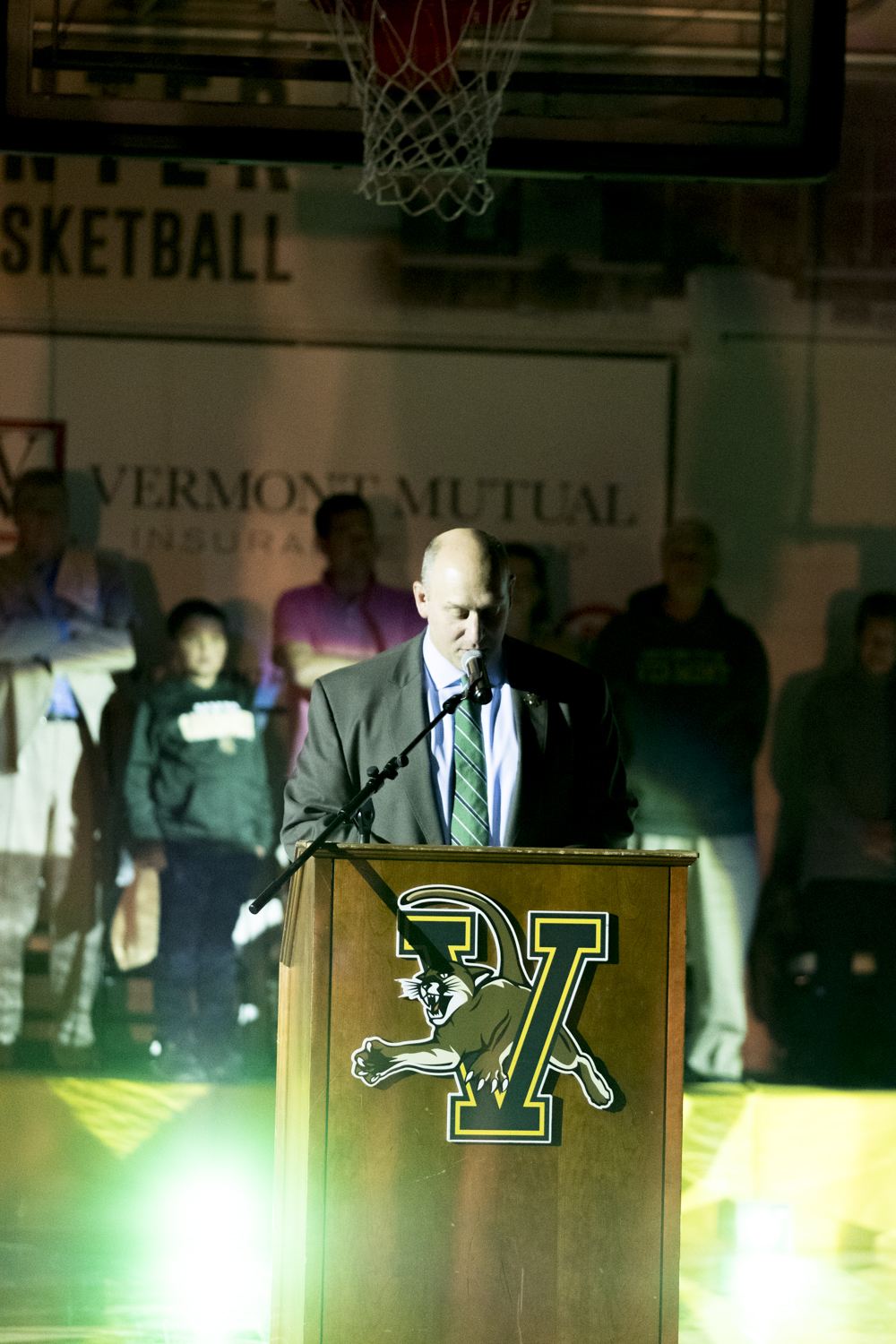 Coppenrath played in professional leagues for 10 seasons after his UVM career ended. He is now a high school basketball coach and math teacher.
Both Coppenrath and Sorrentine also expressed thanks to their families, teammates and coaches for always supporting them and pushing them.
First-year Aliceson Drollette attended and said the event was a cool merging of generations of UVM basketball.
"I thought it was so cool to see how the generations came together through these alumni referencing potentially seeing [senior forward] Anthony Lamb's number be retired one day as well," she said. "It was neat even though Sorrentine is a coach for Brown now."
Celebrations continued throughout the evening as Vermont took victory over Brown.
The final score was 70-59.
Men's basketball's next contest will be another home exhibition game at 4 p.m., Nov. 3 against Saint Michael's College.
Leave a Comment