Class of 2023 ring in the new school year with new UVM President
The class of 2023 took their first steps as UVM students as they paraded down Main Street as part of a running UVM tradition— Convocation.
Over 2,600 students sat in Patrick Gym wearing vibrantly colored t-shirts, as they listened to speeches.
SGA President Jillian Scannell welcomed the crowd. She encouraged students to get out there, try new things and to stay persistent.
"You are about to embark on a journey that will lead you on twists and turns that you cannot even imagine right now," she said. "You will have opportunities, successes and yes a few missteps but remember that your journey is not meant to be traveled alone."
The class of 2023 marks the first for newly-minted President Suresh Garimella.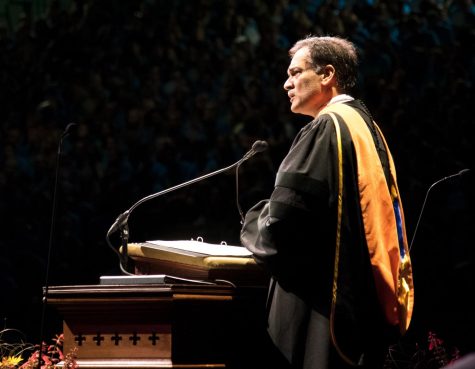 Garimella started his speech by reminding the class of 2023 that they are his inaugural class. They will go through this period of adjustment together, he said.
Garimella went on to tell students to use their time at UVM as a time to explore their personal and intellectual paths.
"Your time at the University is the time of your life to grow, to listen, to learn from others, to share your perspectives, to open your mind and horizons to diverse ways of thinking and perspectives that are different from yours," he said.
When leading students down Main Street, Garimella said his new position hit him.
"It just dawned on me, as these people were walking behind me, that I am responsible for this now," Garimella said. "Four years from now I want to see every one of them graduate."
First-year Carter Franciskovich, from Lexington, Massachusetts, who is currently undeclared, said he came to UVM for the community.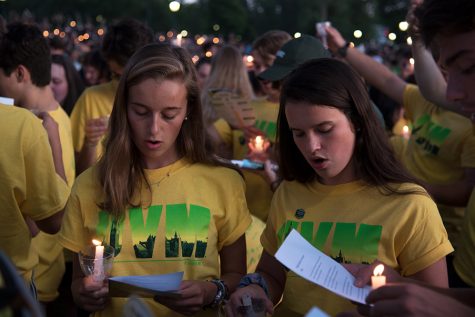 "Like they say it's one big family and it's just nice to know that you are a part of something big like that, " Franciskovich said.
First-year Merete Cowles, from near Washington, D.C., has been struck by the beauty of UVM and Burlington.
"I just don't understand how people from Vermont don't just constantly walk around with their jaw dropped. I literally freak out about every cloud, every street, it's just so beautiful here," she said.
After the Twilight Induction, Garimella spoke about the uniqueness and importance of Convocation and the Twilight Ceremony.
"We should all celebrate the good things about UVM. If we don't tell our story others won't so let's do our best, I will. You should. We all will."
View Comments (1)