Climate activists block traffic during rush hour in Burlington
A group of protestors blocked portions of Main Street during peak rush hour traffic Monday evening in Burlington, right outside the UVM Davis Center.
At least 20 protestors were blocking both lanes of traffic and were part of a group called "Extinction Rebellion BTV."
The group is made up of concerned Vermonters advocating for action against climate change, said Isaac Bissell, a member of the group. The group has been walking up and down Main Street and "swarming" traffic as an act of civil disobedience, he said.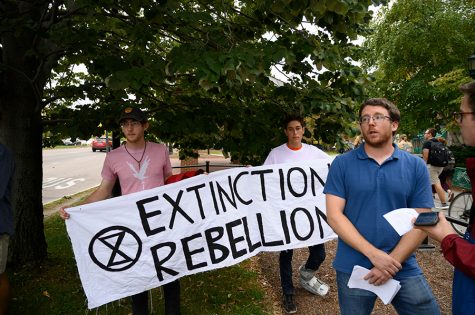 "None of us are comfortable right now, it's not that fun…it's scary," Bissell said. "We're putting ourselves outside of our comfort zone to engage with people."
The group was using today to raise awareness of other actions, like the Climate Encampment slated for Oct. 17-19 and to try their hand at civil disobedience tactics, he said.
"We think that civil disobedience works, especially when the evidence is on your side," Bissell said. "I think there is a real need for people to get organized and work collectively. It takes a smaller number of people to change the world if you're organized and engaged."
UVM Police officers were on the scene to make sure everyone was kept safe. Cars honked and drivers could be heard yelling at the protestors to move out of the road.
After a few minutes, the group moved off the street, onto the sidewalk and continued marching towards the Staples Plaza in South Burlington.
As the protestors moved through campus on the sidewalk they offered cookies and pastries to passing students.
At the end of the demonstration, members said Monday's actions were successful.
This story may be updated as more information becomes available. 
Leave a Comment
About the Contributor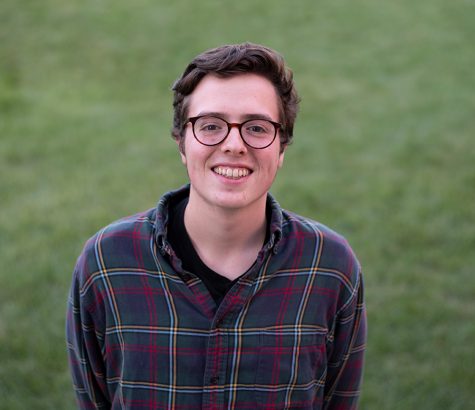 Sawyer Loftus, Editor-in-Chief
Sawyer Loftus is the News Editor for the Vermont Cynic. He is a junior History major with a passion for News. This past summer he was an intern in the...