Climbing Club derecognized for five years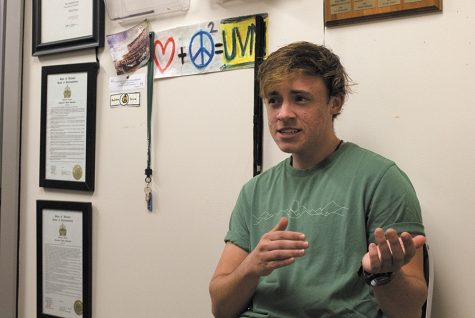 The Climbing Club was derecognized by SGA Sept. 25 after racking up a debt of $10,792.65.
During the past fiscal year, the Climbing Club overused their allocated SGA budget by paying student employees to operate the climbing wall at the campus recreation center, SGA Treasurer junior Jared Percoco said.
All undergraduates pay a student activities fee, which provides SGA funds, according to the SGA website.
Senior Caleb Weathers, UVM rock climbing wall staff coordinator, said the club's expenditures remained roughly the same from year to year and they requested approximately the same amount of funds each year from SGA.
The issue came because the club was not fundraising, which put it in bad standing with SGA  and caused them to get less funding, he said.
"Climbing Club isn't actually a club at all — it's just a member-base of staff members," Weathers said. "We kept going in this unsustainable fashion, and I think it just finally caught up with us."
Student Life Director Daphne Wells said that organizations that get funded by SGA have a responsibility of fundraising for a portion of their expenses.
Weathers and other climbing club leaders are looking to get Campus Rec to fund the staffing of the wall, Weathers said.
"It didn't make sense that SGA was funding us and Campus Rec wasn't at all," he said.
Campus Rec is working on a survey to assess if the climbing wall's hours of operation should be reduced or eliminated based on student demand, Percoco said.
Weathers hopes to have the wall up and running again with Campus Rec's funding for the spring semester, he said.
John Abbott, assistant director of outdoor programs, said there is talk of making the climbing wall self-service.
"Students found it ridiculous that they were paying a general rec fee, and then on top of that being asked to pay to use the wall," he said.
Clubs do not pay wages with their SGA budget but an exception was made for Climbing Club when it was first established, Percoco said.
The legislation to derecognize Climbing Club states that the club may not be re-recognized for five years or until it pays back its debt, he said.
When the five years pass, the club's debt is waived and they can get re-recognized, Percoco said.