Family and friends mourn deceased former student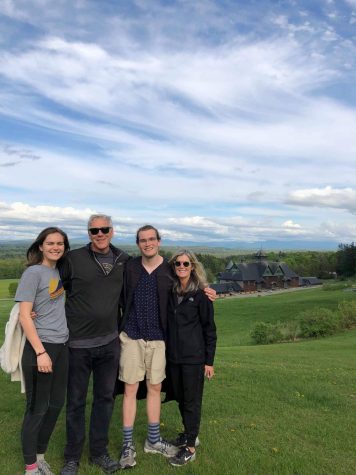 A UVM alumnus died after being caught in gunfire in Washington, D.C.
Tom Marmet '18 passed away at the age of 22 Oct. 25 while heading home from work, according to a Maryland Police Department press release from the same day.
Marmet was an active community member and worked toward justice and equality.
An aspiring social worker, Marmet was working as a fellow for the non-profit organization So Others Might Eat, which helps the homeless population, Marmet's father Roger Marmet, said.
"This was somebody who was already dedicated to making the world a better place," Roger Marmet said. "So that is a loss for the D.C. community, the country and the world."
Marmet developed a sense of justice from a young age, wanting to adopt the dog who had been at the animal shelter the longest despite those dogs being difficult to take care of at six years old, Roger said.
As a member of 1 in 4, a peer sexual assault education group, Marmet was involved in raising awareness of sexual assault at UVM, Marmet's sister Sally Marmet said.
Marmet also fought for gender equality and transgender rights, Sally said.
As an English major, Marmet enjoyed reading fantasy novels, but was also interested in hiking, poetry and sports, Sally said.
"Everyone has been saying how much of a light Tom was in their life," she said.
Skylar Gay '18, a friend of Marmet's, said Marmet was also involved in the Burlington community, attending poetry slams and Gourmet Club.
"Tom was one of the most compassionate and emotionally intelligent people you've ever met," Gay said. "You could open up to Tom."
Zayn Hasan '18, another friend, said that Marmet was modest, always present in the moment with friends and loved ones and made others smile.
"Losing Tom, we really feel like we've lost a part of us," Hasan said.
UVM was a great place for Marmet because being there helped strengthen Marmet's values of respect, kindness and nonviolence, Roger Marmet said.
It is important to note that Marmet's death was from gun violence, which Marmet had recently been campaigning against, Gay said.
Roger Marmet said he does not want the death to be politicized, and he is not sure what needs to change to prevent tragedies like this.
"It would be great if people loved one another and had more respect for human life," he said. "I don't know how you do that, but I do know that there are simple things we can do with electing politicians who will make sensible gun laws."