In a historic vote, UVM Board of Trustees unanimously decides to divest from fossil fuels
A correction has been made for the spelling of Kieran Edraney, the President of Organize.
The UVM Board of Trustees voted unanimously to divest from fossil fuels during a July 14 meeting and announced the decision on the same day. 
UVM will immediately end new direct investment in fossil fuels, according to a July 14 email sent by UVM president Suresh Garimella. UVM promises that by July 2023 it will fully divest from its public investments in fossil fuels.
The University will allow pre-existing multi-year private investments to lapse without renewal, though it has stopped making these investments since 2017, according to the email.
"UVM will continue investing in opportunities that focus on sustainability, climate change mitigation, and other Environmental, Social and Governance, or ESG, issues," stated the email.
Looking forward, UVM is planning to accelerate an engagement campaign with the managers of its commingled funds, factoring the financial risks of climate change into their investment decision-making process and sharing their framework for doing so with UVM, stated the email.
Chair of the Board Ron Lumbra appeared along with UVM president Suresh Garimella at an online Microsoft Teams board announcement meeting several hours after the announcement to address questions from the media. 
At the meeting, Garimella picked a sunny, green picture of the UVM campus as his background. "I had to do something to celebrate this great day!" he said. 
UVM will divest by immediately selling the fossil fuel investments under direct University control and slowly move out of other investments already in lease, Lumbra said at the announcement meeting. 
The funds will then be reinvested into hedge funds with a larger focus on sustainability, Lumbra said. "We will only reinvest in funds that have declared that they are fossil fuel free."
The decision was made at this time as a continued part of the University's longtime commitment to environmental sustainability, Garimella said. 
"Divestment is part of a long track record of action and leadership in sustainability at UVM," he said. "We have every intention to continue to lead in the future."
Several financial factors also influenced the decision for divestment, Lumbra said. 
"Energy stocks have performed poorly in recent years and the forecast is bleak for future performance," Lumbra said. "Meanwhile, the opportunity to invest in sustainable funds has amplified, which allows us the confidence that we can still get the finances we need to serve our students."
Lumbra also said that student voice and activism also has a big role in influencing the Board's decision.
"The students did a particularly good job of researching the topic while being clear-headed and thoughtful about all the complexities around the subject," Lumbra said. "It wasn't a decision based on emotion. It was very rational, very carefully researched."
The Board is proud of the UVM students who made their voices heard, Garimella said. "I'm really proud of the way they approached this issue," he said. "Kudos to the students."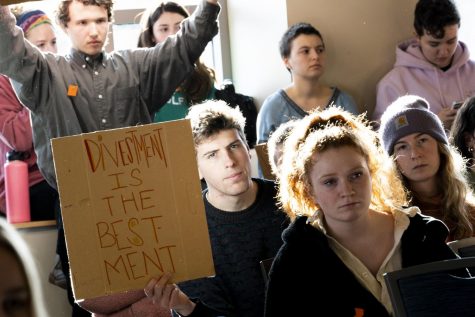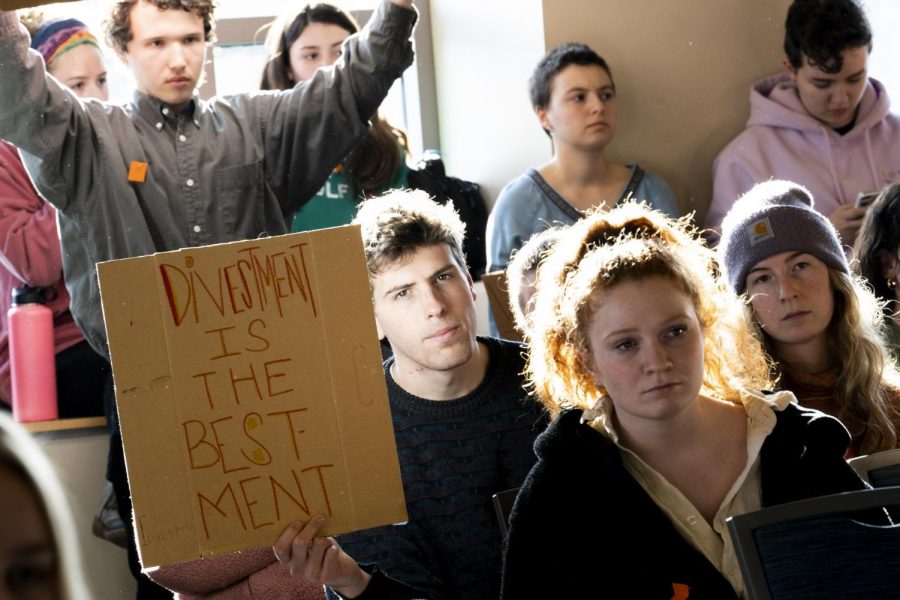 Emma Page, Sunrise Burlington Hub Coordinator, said that while this outcome was long overdue, she hopes the Board's actions reflect their understanding of the magnitude of this crisis. 
"UVM choosing to divest is a testament to the power of organizing," Page said. "Ultimately it has taken over ten years to reach this win. It's important to recognize this victory and people's hard work in this effort."
Sunrise Burlington is an organization dedicated to making climate change an urgent priority across America with a particular emphasis on fossil fuel companies.
President of Organize Kieran Edraney is very proud of the work that his organization has done for UVM.
"One of the great things about the divestment campaign is it shows people we have a lot of power and we can get things done," Edraney said. "We should use divestment as a first step to bringing uvm to a new level, making us a premier environmental university."
Organize is a student-led club dedicated to mitigating climate change through political activism. 
Sophie Smith, former SGA Chair of the Committee on the Environment, said that last semester she had started to suspect the University would divest from fossil fuels in the near future. 
Divesting is a long process and the University cannot just state that it wants to divest from investments, Smith explained.
"It's much more complicated than that," Smith said. "In all of our language, we made sure to clarify that we wanted to divest from fossil fuel holding companies, which are companies that have direct fossil fuel holdings."
On March 2, UVM formed the Sustainability Work Group, tasked with advising the BOT on fast-moving trends surrounding sustainable investment. The group is also tasked with providing perspective to the Board on fossil fuel divestment, according to the Board's website.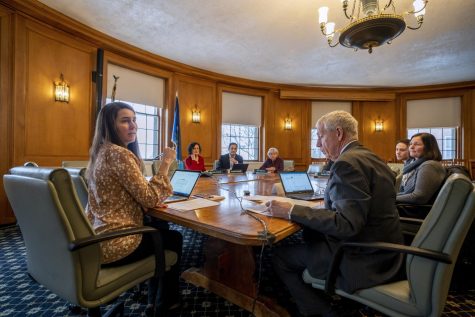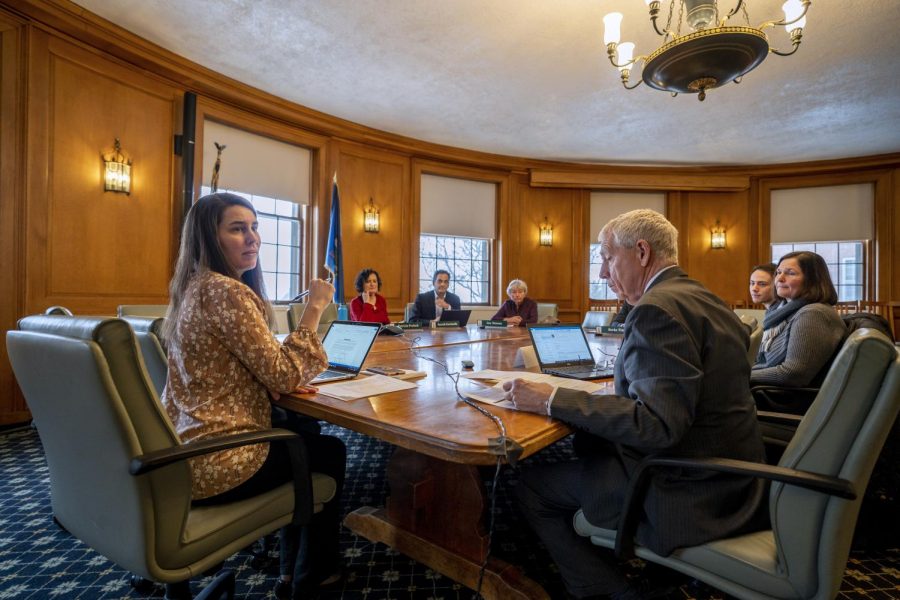 "A couple of members of the Sunrise movement were really uninspired by the formation of the committee, saying, 'they're just forming this committee to slow down divestment and it's not going to happen,'" Smith said.
However, SGA felt differently about the new committee. "We were pretty excited about it and we knew that the committee would form good results. And it actually turned out that we did divest," Smith said.
Smith explained that since word choice is very important in the divestment process, the Sustainability Work Group was working on forming specific language about how to divest.
The Sustainability Work Group also spent time looking at how other universities chose to divest, such as Middlebury so that they could base their plans off of this, Smith said.
Edraney said he is very impressed with how quickly UVM is divesting from fossil fuels. 
"Look at Middlebury College. I think they gave themselves 15 years to do something that we are going to do in 3 years," Edraney said.
However, when the Board started the Sustainability Work Group, they did not call it the Divestment Task Force, Lumbra explained.
"The reason for that, quite frankly, is that divestment is a really, really, really small part of our overall sustainability mission," Lumbra said.
COE's current chair Liv Lopez says she agrees that this is a small step in the right direction. 
One change that Lopez suggests is for the University to update its Climate Action Plan. This plan is usually found on UVM's Office of Sustainability, but the link is no longer working as of July 14.
"It's essentially just one statement that commits to becoming a more sustainable University, and there's really no real outline or goals that have been set," Lopez said.
Lopez stresses the importance of UVM's administration to continue listening to student organizations and leaders on campus. Students should be prioritized by UVM and the Board of Trustees in general, she said.
Both Garimella and Lumbra said they were very happy with the vote to divest from fossil fuels."The Board is delighted at the outcome here and how we've gotten here, so thank you for your support," Lumbra said.
Leave a Comment
About the Contributors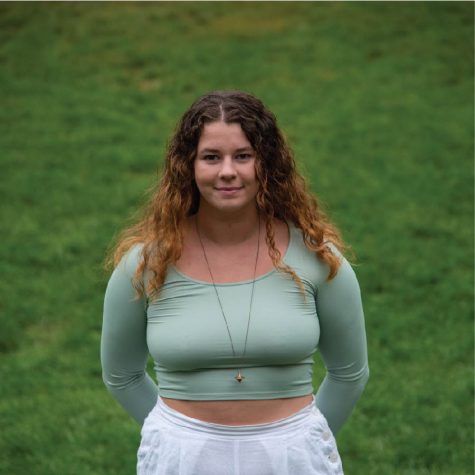 Kate Vanni, Editor-in-Chief
(She/her)

Kate Vanni is a senior Communications Design major with minors in Applied Design and Studio Art. Before becoming the Editor-in-Chief, Kate...