Looking at the matchup: what to know about each team's seasons before the round of 64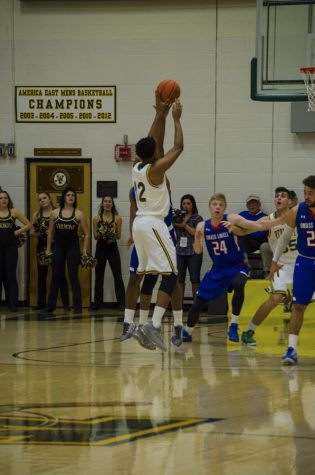 The Men's basketball team will take on Purdue University in the round of 64 of the NCAA tournament, March Madness.
After a nail biting finish, the team finished their run through the America East conference undefeated with a 56-53 win over the University at Albany in Saturday's championship at Patrick Gym.
As selection Sunday approached, the Catamounts were making noise amongst national rankings, receiving a season high of three votes for top 25 consideration, according to ESPN.
Finally, just after 5:30 p.m. Sunday, it was announced by the NCAA committee that UVM will travel to Milwaukee, Wis. to take on Purdue University.
Vermont, a No. 13 seed, and Purdue, a No. 4 seed, last played each other just one season ago, with the Catamounts suffering a 107-79 loss on the road.
In that game, redshirt sophomore guard Ernie Duncan and junior guard Trae Bell-Haynes led the way for the Catamounts with 18 points and 17 points respectively, according to UVM athletics.
Purdue forwards Caleb Swanigan and Isaac Haas led the Boilermakers with 14 points and 15 points respectively, with Swanigan also nabbing 13 rebounds, according to UVM athletics.
With that being said, both teams are quite different from just a year ago.
Purdue was "one-and-done" in last year's NCAA tournament, suffering a heartbreaking loss in the first round to No. 12 seeded University of Arkansas at Little Rock, according to Purdue athletics.
The Boilermakers returned eight players from that team, and won the Big 10 regular season title this season, according to Big 10 records.
Vermont did not make the NCAA tournament a year ago, losing to Stony Brook University in the conference championship.
Since then, the Catamounts lost only forward Ethan O'Day from last year's roster, and added redshirt junior forward Peyton Henson, redshirt junior forward Josh Hearlihy, and freshman forward Anthony Lamb.
This season, UVM went 16-0 in conference play, and ultimately won the conference tournament, earning an automatic bid to the "Big Dance."
The last time the program was seeded no 13 in their region was in 2005, when the Catamounts shocked the nation with a win over No. 4 seeded Syracuse University.
As round one approaches, this matchup is under upset alert, according to some experts.
"They get good shots, they have a playmaking point guard in Trae Bell-Haynes and they control the pace," said NBC Sports pundit Terrence Payne, who named Vermont as one of his Cinderella candidates.
Vermont is ranked the hottest team in the nation according to ESPN's John Gasaway, riding a 21 game-winning streak heading into Thursday's game with Purdue.
The Catamounts are given an 18.8% chance of winning Thursday night according to ESPN statistics, and their matchup against the Boilermakers raises concerns for Purdue, who will be trying to avoid a third consecutive first round defeat.
        Purdue should have an advantage on the glass, with three players at least 6 feet 10 inches tall.  Vermont does not have a player taller than 6 feet 8 inches.
        Again, UVM intends to stick to their game plan as they have the entire season, but are excited to be the underdog.     
"This would be the first game too that we'll play without a lot of pressure on us," coach John Becker said in an interview with ESPN. "That should be a nice relief for our guys, just kind of cut it loose, and I think it will give us a chance to play a really good game."
        Vermont has a very efficient defense, ranking No. 11 in the nation in points per game allowed, according to ESPN.
        "Defensively, Bell-Haynes and America East Defensive Player of the Year Wills make opposing guards uncomfortable for 40 straight minutes," wrote ESPN's Shane McNichol.
        On offense, UVM prefers to control the pace, attempting to slow down the game in order to get efficient possessions and high percentage shots.
        "This means having Bell-Haynes create off the bounce, Lamb and Henson scoring on the block, with Duncan and Steidl ready to make open jumpers," McNichol said.  "Containing every part of the Vermont offensive puzzle is a tall task."
        In the end, Purdue is still favored by nine points, and Vermont is given a low chance to leave the court victorious, according to ESPN.
        With that being said, it seems that the key to UVM winning the game on Thursday, is for them to execute their style of play just like they have all year.
        Vermont must slow down the pace of the game, and get open jumpers in order to beat the Purdue size.
        On defense, the Cats need to rebound the ball and not allow second chance opportunities, and Bell-Haynes and Wills must continue to bother opposing guards.
        Opening tip is slated for 7:27 p.m. Eastern Time March 16 in Milwaukee.