Meet the students behind the board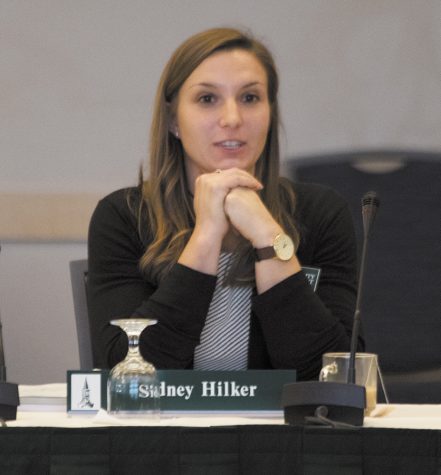 Sam Litra
As one of two students on the board of trustees, second-year medical student Sidney Hilker works to represent students when managing the University's affairs.
"I think as a student I have a unique opportunity that I can serve as a little bit of a check to see if we really are listening to what's happening [on campus]," she said.
Hilker's "careers in medicine" adviser, associate professor Mario Trabulsy, said that Hilker is not the kind of person to shy away from voicing her opinion on the board.
"I can see her benevolently ruling the world," Trabulsy said. "Sidney is truly one of the most remarkably sure and thoughtful — while still being super fun and interesting — people I've ever met."
Hilker's friend, second-year medical student Sienna Searles, said students should feel confident that, with Hilker on the board, their views will be well represented.
"Sidney doesn't take any decision lightly, and she doesn't take any decision at face value, Searles said. "She really considers both sides and respects both sides of an argument."
Hilker grew up in the area and feels very connected to UVM, she said. Her brother went to UVM for college and her grandfather takes advantage of the free courses for retired Vermonters, she said.
Searles said she was excited to return to Vermont after graduating college at Harvard University in 2014 and working in Boston.
Hilker decided to apply for the opening on the board shortly after beginning medical school last year, she said.
"I thought it sounded like something interesting after having come from a job where I spent lots of time working with boards for big organizations," she said. "I'll be honest that at first I did not appreciate the scale of the opportunity."
Throughout her time on the board, Hilker feels it has given her more than she has given it, she said.
Her proudest accomplishment is working on the renaming committee, which recently recommended that Bailey/Howe Library be renamed, Hilker said.
Hilker is on the education policy committee and the audit committee as well as the presidential search committee, she said.
Although she will still be a student when her term ends on the board after two years, she will not seek to re-apply, Hilker said.
"I think it's important for a lot of voices to be heard and that opportunity to be had by many students," Hilker said.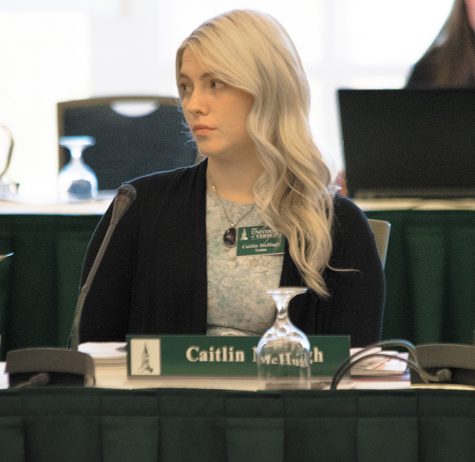 Sam Litra
For junior Caitlin McHugh, being on the board of trustees is about being an advocate for students.
McHugh, who studies environmental sciences and math, is one of UVM's two student trustees. The position is unique to UVM because unlike other universities, she and her counterpart are full voting members of the board, she said.
"I really felt like I wanted to be an advocate and I really wanted to be able to get the student opinion out there," McHugh said. "I still didn't really understand a lot of it, but everyone was like, 'just apply,' so I applied."
McHugh said she applied to join the board her first year after learning about the position through the other organizations she was involved with and talking with a former student trustee, she said.
One of McHugh's favorite things about being on the board is learning about how UVM functions, she said.
"I love studying the University's structure because if you can understand the structure, you can understand why things are the way they are," McHugh said.
In addition to being a student trustee, McHugh is also an SGA senator, sitting on the academic affairs committee.
"[If] Caitlin sees a problem in our situation or system she just instantly knows the right question to ask," said Committee Chair Jamie Benson, a junior. "She sees right through to the most important element of whatever she's talking about, and she's so caring while she does all of it."
McHugh is able to provide insight to the board on what students think about issues on campus, as well as ask questions that would help students better understand what the University is doing, she said.
As an SGA senator, McHugh sits on the Faculty Senate's curricular affairs committee and frequently works with its chair, plant biology lecturer Laura Almstead.
Almstead said she truly appreciates the amount of effort McHugh puts into work as a representative on her committee, and is thrilled to be working with her.
"Caitlin was the SGA rep last year and I asked her, 'please, please Caitlin, would you come back this year,' and was thrilled when she said she would," Almstead said.
Having student representatives like McHugh is valuable because they provide insight that faculty can't give, and McHugh is one of the best that Almstead has worked with, she said.
Benson has one-on-one meetings with the senators on his committee to check in with them, but whenever he meets with McHugh she frequently turns the tables on him, he said.
"She asked me how I am, and we talk about me, and I'm like 'No, no, this is about you,'" Benson said.