ResLife holds exit sign take back day in response to stolen property "epidemic"
Residential Life is allowing students to return stolen exit signs April 6 no questions asked, according to an April 6 email to on-campus students from Kevin Hytten, interim executive director of ResLife. 
Possession of UVM exit signs or other University property may result in a fine up to $500 per violation, per student, among other sanctions, according to ResLife's Terms and Conditions. Exit sign take back day serves to eliminate fines and repossess lost property, the email stated. 
"This year our campus community has struggled with an epidemic of stolen and broken Exit signs," the email stated. "The cost of these damages has been staggering. The health and safety implications of missing or broken exit signs cannot be understated; it puts lives at risk during an emergency." 
Additionally, stealing signs has detrimental impacts on Custodial and Facilities staff members who are tasked with cleaning and restoring damages, according to the email. Hytten has heard directly from staff that the damage makes them feel demoralized and disrespected. 
It takes up to an hour and a half to repair or replace a broken exit sign. This time would otherwise be spent addressing other student community maintenance concerns. 
In addition to violating the ResLife Housing contract, tampering with Life Safety devices violates the Code of Student Conduct and in some cases is against the law, the email stated. 
Hytten recently became aware of an incident wherein 10 exit signs were found in one double room, according to the email. Under the current policy, ResLife may fine these occupants $500 per resident, per exit sign, to accumulate a fine of $5,000 per student, or $10,000 in total. 
"Fining students is not our goal," the email stated. "Ensuring your safety and maintaining an environment of mutual respect is. I would like to take this moment to provide you with clarity on the approach we have taken in recent weeks and will be taking moving forward." 
ResLife will refer any student caught tampering with an exit sign or other Life Safety device to the Center for Student Conduct, and UVM Police Services when applicable, the email stated. 
ResLife will closely monitor damage to Life Safety devices and exit signs for the remainder of the semester and will return to group billing for any excessive violations, according to the email. 
Any student found in possession of an exit sign in their room will be fined at the maximum rate, with no opportunity for appeal regardless of how the sign got there, according to the email. 
"Based on the volume of damage up to this point – group damage billing would result in hundreds of dollars in fines per student this academic year," the email stated. 
About the Writer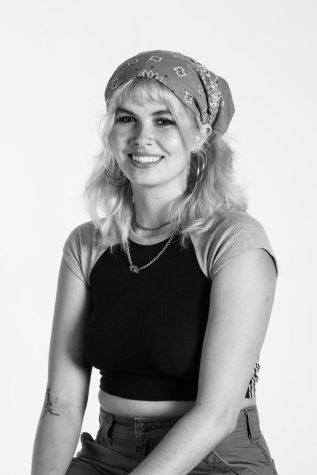 Ella Ruehsen, Editor-in-Chief
​(She/her) Ella Ruehsen is a senior environmental studies major with minors in political science and reporting and documentary storytelling. Before becoming...