Student carries sign in solidarity with other survivors of sexual violence
Editor's note: This story was updated at 10:29 p.m. Sept. 22. 
A UVM student can be seen holding a handmade cardboard sign on campus – a statement piece she said she carries to demonstrate the constant burden carried by survivors of sexual assault. 
The "red zone," a period of heightened sexual violence on college campuses, sparked Junior Syd Partin's initiative, she said. She began the independent protest to revamp the sexual assault prevention movement that dominated campus life last spring. 
College campuses experience a spike in assault cases during the "red zone," or the first few months of the semester, according to Promoting Awareness | Victim Empowerment, a nonprofit organization that spreads awareness about sexual violence. 
The red zone is a period between mid-August and Thanksgiving break, during which statistically more than 50% of sexual assault occurs on college campuses, according to PAVE's website. This period of time coincides with the arrival of new students and parties to celebrate Greek Life rush. 
"The movement is not over for me," Partin said. 
This fall marks Partin's return to campus after nearly two years. 
After reporting their assault to the UVM Medical Center the day after the assault occurred in March 2019, and later informing other resources who are mandated reporters, Syd said they did not receive a response from the Title IX office until April 2021. 
This August, Partin said they made the courageous decision to return to the UVM campus. 
"Now, here, it's just such a rollercoaster of emotions and unexpected triggers," they said. 
Since the first day of the semester, Partin carries their sign everywhere they go on campus. The reaction of the student body is mostly positive, apart from a few individuals who voiced their disapproval with smirks and sneers. Many of these folks were wearing fraternity apparel, she said. 
"Greek life is at the forefront and at the epicenter of assault on campus," Partin said.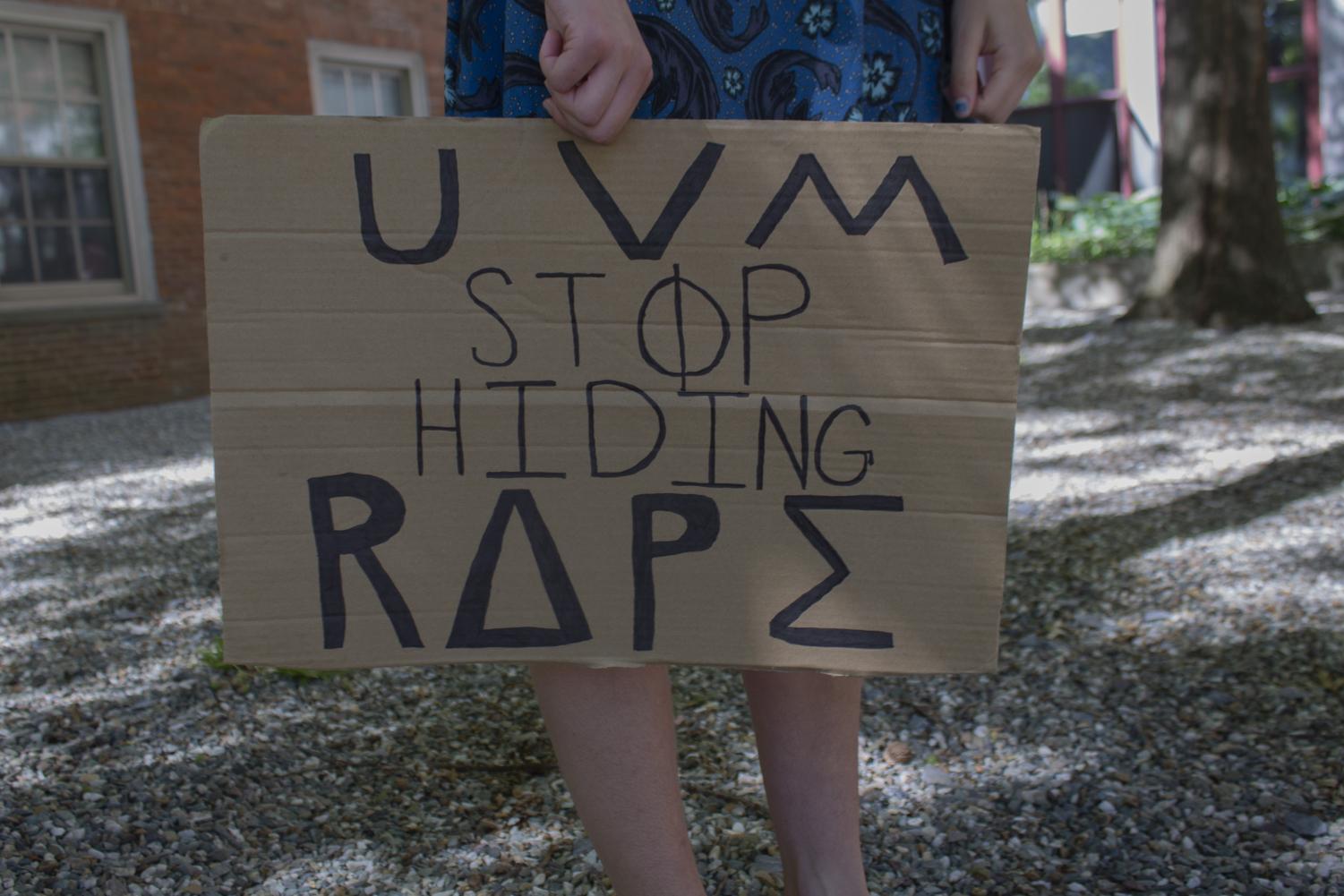 Erica Caloiero, interim vice provost for student affairs, said UVM's Title IX office does not receive an influx of sexual assault cases during this period. However, this data is largely influenced by the number of survivors who report their cases to the University, she said. 
"We know that we don't hear from all survivors," Caloiero said. "People may choose not to come forward. They may choose to wait and seek supports and services." 
UVM's administration and the Title IX office have been under harsh criticism for their handling of sexual misconduct since the spring. 
Caloiero said that the Title IX office has plans to address the student body's demands for action. 
"Every one of the pieces that we have been tasked with doing is well underway," Caloiero said. "We are either meeting or attempting to exceed what has been put forward." 
Caloiero said the Title IX office collaborated with SGA as well as off-campus organizations like HopeWorks, a Chittenden County-based organization dedicated to ending sexual violence and supporting survivors. 
UVM has also launched a search for a Sexual Violence Prevention Coordinator. 
Partin, however, said the Title IX office still needs to fix all of the most prevalent issues. She also believes the list of student demands is flawed, due to a lack of diversity in the voices it represents. 
"There were not a lot of identities that came forward to make that list," they said. 
Despite the shortcomings in the student agenda, the astounding lack of support provided to survivors by the Title IX office is at the forefront of Partin's mind, she said. 
"I don't think [UVM's] verbal responses were adequate and their actions certainly aren't adequate," they said. 
Partin remains positive that the administration can begin to remedy their failures – first and foremost with transparency and recognition, they said. 
"If they're trying to gain back the trust of students, just the simple words, 'we acknowledge the harm we've created,' [can] go a really far way," Partin said.