Sullivan assessed by board of trustee's review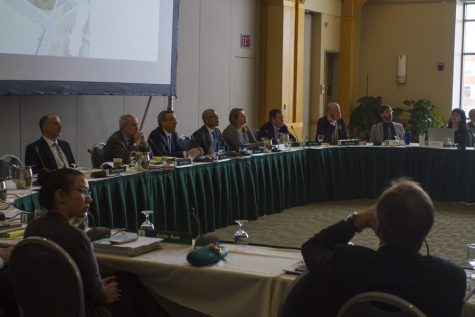 President Tom Sullivan thinks it necessary to value free speech on college campuses, according to a new book he is writing, which has yet to be named.  
Sullivan's book will outline the challenges of interpreting the First Amendment and emphasize the necessity for college campuses to cultivate a civically-informed student body, Sullivan said.
"President Sullivan's timing is perfect, given our 'Age of No Truths,' 'alternative facts' and moral relativism," Community Development and Applied Economics professor Rob Williams said.
His book will focus on the importance of free speech including how social media has affected the expression of young people entering the political marketplace.
"Just because social media is used for play and pastime does not mean students should not be held accountable for what students put on it," first-year Harmony Edosomwan said.
Williams said the riots at University of California Berkeley regarding Milo Yiannopoulos of Breitbart News and the reaction to Charles Murray's speech at Middlebury College  are "liberal intolerance"  and are directly related to the freedom of speech.
"Murray's ideas are distasteful to many, but as an invited guest of the college, he deserves to be treated with respect," he said. "Even as his ideas, should be thoughtfully and thoroughly challenged by those who disagree with them."
It is the college campus setting where the exchange of ideas and expression of personal viewpoints — whether one agrees with them or not — should be protected, Sullivan said.
"If we can't have a thoughtful exchange of opinions in the educational and scholarly setting of universities, it is hard to see that operate in society at large. Society looks to us for solutions and new ideas, and it takes a robust environment to achieve that," he said.
Not only does the University have a responsibility to its students to promote free speech outside the classroom, but also uphold it within the curriculum, English professor Jamie Williamson said.
"Open inquiry and the ability to pursue the study of different subjects without teaching through a scope of rigidly imposed ideologies is invaluable," Williamson said.
The book will include a chapter on the history of the law's development, a chapter on the philosophy of the law which supports that legal rule, and the philosophy behind the First Amendment, President Sullivan said.