Three Years of Protest: What does the future hold for NoNames for Justice?
What does the future look like for NoNames? They have been active at UVM for years. Here's what has and has not changed.
Three years and two days after a white fraternity pledge stole a Black Lives Matter flag off a Davis Center flag pole, protests over racial injustice persist on UVM's campus.
The theft of the flag planted the seed for what would become the activist group NoNames for Justice.
Since 2016, protests over racial inequity have rocked the University's campus, largely led by students who would form the group the next year.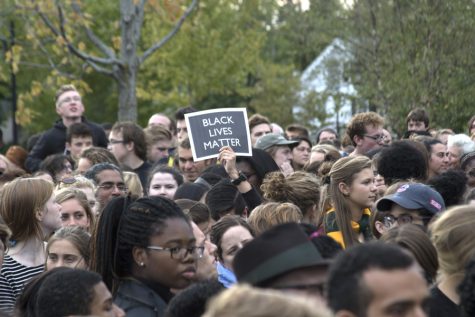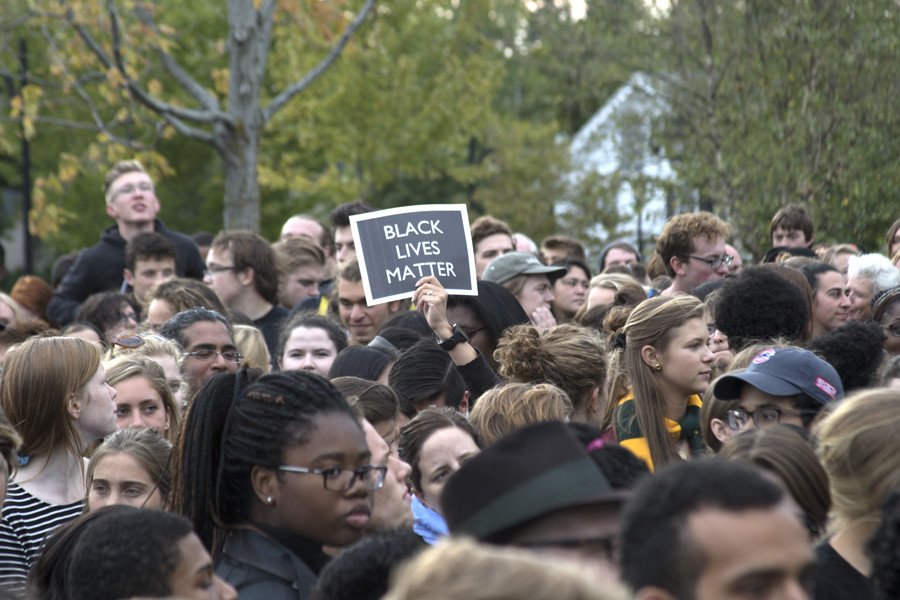 NoNames formed and created a list of seven demands calling on UVM administrators to further work to meet the needs of marginalized groups on campus in the fall of 2017.
Former student activist Angelica Crespo '18 was the first student from the group to create a list of demands for UVM to address. Current senior Harmony Edosomwan stepped in and expanded that list in November 2017.
In February 2018, days of protests erupted on campus.
NoNames protestors blocked traffic for three hours Feb. 22, on Main Street in Burlington and demanded to meet with then-President Tom Sullivan.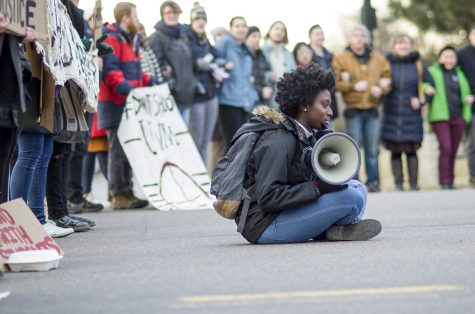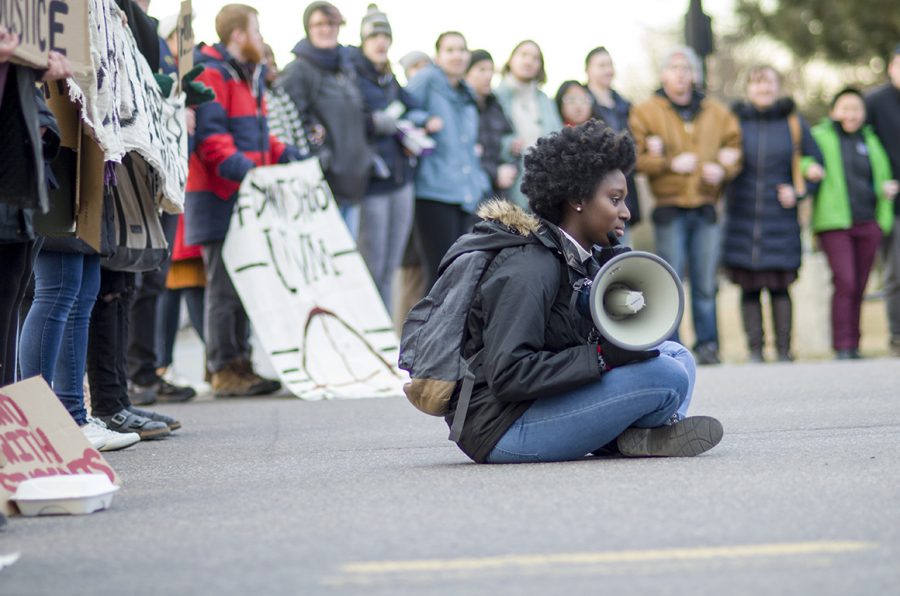 Three days later, students took over the Waterman building for 10 hours. This was the third time students had taken over the UVM administrative building since 1989.
Following the February 2018 rallies, NoNames has continued to have a presence on campus.
A year after the Waterman takeover, NoNames held an anniversary rally in the Waterman building to commemorate all that had happened a year before.
For three years, protests and demands for action against racism and white supremacy have continued.
Now the group's direction is in question as NoNames leaders graduate, creating an uncertain future for the group.
'Change is still coming':
At the Sept. 25, 2019,  rally Edosomwan acknowledged UVM has made some progress but not without a push from students.
"UVM is heading in the right direction, but this only happens when the voices of student leaders and marginalized communities are actually being listened to," she said.
But NoNames continues to protest as injustice has continued to find a home on UVM's campus, Edosomwan said.
"Five years, 10 years, 20 years from now, I don't want a black, poor woman like myself to have the same unjust experiences on this campus," she said. "I'm doing this for her."
The 2018 Demands and progress

1. We Demand All Faculty, Staff, And Administration Attend Annual Diversity And Inclusion Training Including, But Not Limited To The Following Topics: Ableism, Classism, Gender-Based Violence, Homophobia, Rape Culture, Racism and White Supremacy, Religious-Based Discrimination and Violence, Transphobia And Transmisogyny, Xenophobia and White Nationalism, And Any Other Matters Of Equity For Marginalized Peoples.
Paul Yoon, senior advisor for diversity assessment and research, said UVM has made some progress, but mandated faculty trainings are controlled by the faculty. However, the president's leadership team and other senior leaders do have training that encompasses these different identities at least two times a year, he said.
2. We Demand For Increased Recruitment, Hiring, And Retention Of Faculty Of Color And LGBTQIA+ Faculty On Tenure/Tenure Track.
Faculty also control this, but many search committees have made it a priority since
Yoon said. Additionally, now all prospective faculty candidates have to speak during the hiring process about how they will further UVM's inclusive excellence goals, he said.
3. We Demand For The Renovation Of Diversity Courses. We Demand That Professors That Teach These Courses Receive D1 and D2 Specific Training And Resources.
Work is actively being done on this topic, but what specific work, Yoon said, he didn't know.
The Diversity Curriculum Review Committee May 3, 2018 report stated they have added a student to their committee to help with this review and presented to the chairs and directors of the College of Arts and Sciences on proposed changes to special topics courses and D1 and D2 designations in February 2018.
Additionally, they have met with members of the faculty union and senior administrators to further discuss this issue, according to the report.
4. We Demand Adequate Responses To Bias Incidents Upon Marginalized Communities.
Annie Stevens, vice provost for Student Affairs, said changes have been made but could not recall the specific changes.
5. We Demand That Fraternities And Sororities Have A New Mandatory Racial Diversity/Inclusion/Climate/ Equity Training Requirement For All Incoming And Standing Members.
Yoon said he believes this training was instituted at the start of the 2018-2019 school year.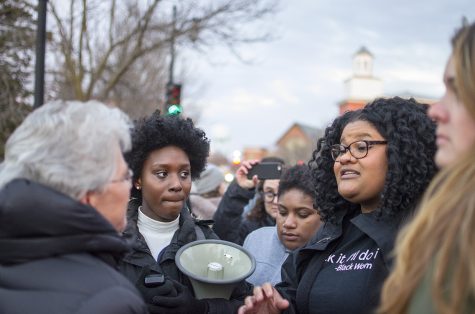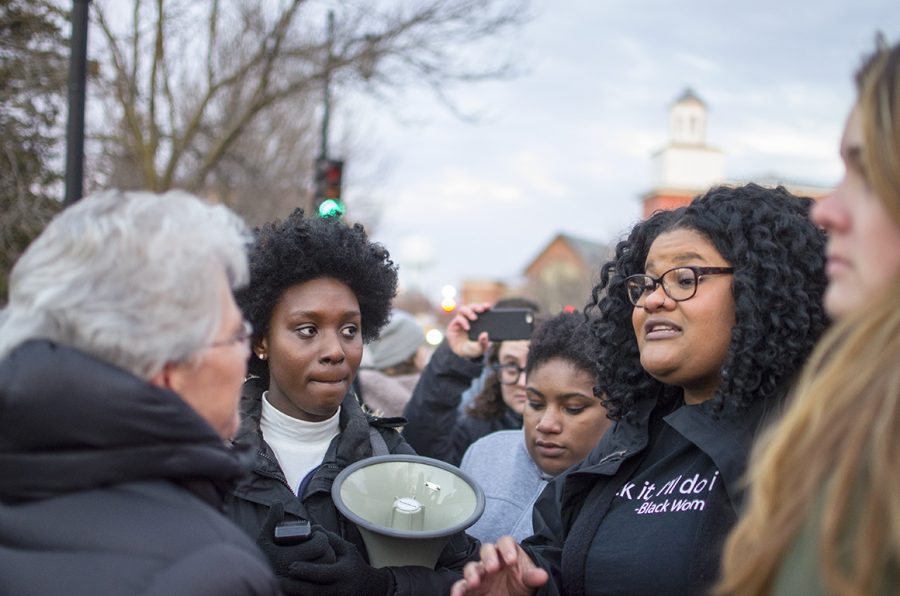 6. We Demand The Identity Centers and The Diversity, Religious, And Cultural Groups On Campus Be Placed On Higher Priority In The University's Funding.
In response to this request, SGA added an additional comprehensive fee of $5 for each student which is used specifically for identity centers, Yoon said. However, UVM has been hit with budget cuts, Yoon said. The identity centers were prioritized, but Yoon refused to comment on what the direct impact of the budget cuts have been on the centers.
"That [support] may not amount to an increase in their budget," Yoon said. "But it makes sure that they have the necessary resources coupled with additional resources from the comprehensive fee to do the best job that they can possibly do to."
7. We Demand That Bailey/Howe Library And George H. Perkins Building Be Renamed.
From the start, former President Tom Sullivan made it clear that the Perkins building would not be renamed but pulled together a team to create a name change criteria for future use, said Tom Gustafson, vice president for University relations and administration.
"We see other situations. Should [former Vice President] Joe Biden be blamed for what his son has done?" he said.
The board of trustees unanimously voted to approve the renaming of Bailey/Howe Library during their biannual meeting Oct. 26, 2018, making the name change official.
The library is now the David W. Howe Memorial Library.
The toll of activism
After the Sept. 25, 2019 rally, NoNames currently has no future rallies planned.
The number of founding members is slowly dwindling, and Annie Stevens said she thinks it's due to members graduating and the toll activism takes on students.
"I think, you know, some of them struggle," she said. "It's a lot of time and energy and effort they put in around activism, and it often doesn't come without consequences to their own academics or health."
Edosomwan, one of the original members of NoNames, said that being a student activist is hard because one side of the University is supportive and the other is not.
"It's like an unpaid internship at a shitty job," she said.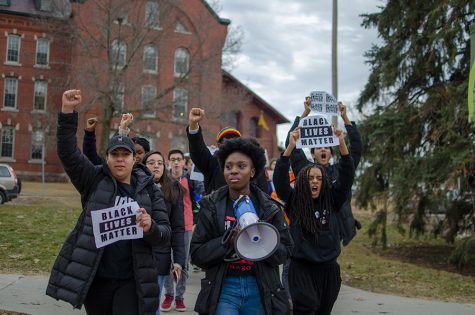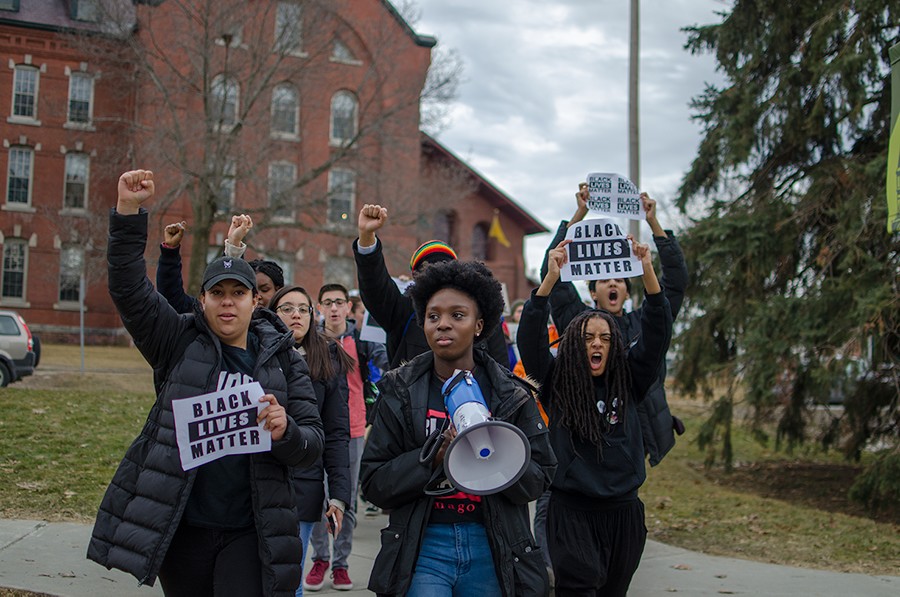 Edosomwan had to take a leave of absence from UVM for a semester because of the mental toll the rallies had on her. She said a lot of activists feel this way; their grades start slipping and they lose interest in school.
To combat this and keep the energy going, NoNames is starting a mentorship program for student activists at UVM.
Edosomwan said that a lot of the student activists in NoNames are graduating, and they all want to help come up with a new line of activists.
Students who are interested can go to NoNames' Facebook page and should consider attending a meeting to broaden their horizons, she said.
"Go to a meeting with people who don't look like you," Edosomwan said.
Although the work is hard, being a student activist is rewarding, she said.
"Change is still coming," Edosomwan said. "Try to take care of yourself. Keep pushing."
Leave a Comment