UVM nurses rally to improve work conditions
U.S. Sen. Bernie Sanders joined with UVM Medical Center Nurses May 12 to work toward improving staffing and work conditions at UVM Medical Center.
The Vermont Federation of Nurses and Health Professionals and UVM Medical Center Nurses marched from UVM Medical Center to the site of the new Medical Center Executive offices on Cherry Street.
They chanted, "nurses united will never be defeated" while they marched.
Together, the groups are working to negotiate increases in the nurses' wages and hire more nurses said Event organizer Deb Snell. 
Event organizer Deb Snell, Sanders, representatives from United Academics, Burlington Education Association, the Community College of Vermont United Faculty  gave speeches supporting the nurses at the event.
Snell is president of Vermont's chapter of the American Federation of Teachers and vice president of the Vermont Federation of Nurses and Health Professionals. The AFT is a labor union that represents teachers, higher education faculty, governmental employees and nurses.
The event was meant to be a fun for the nurses and to show UVM Medical Center that the nurses will not take the issues they see as serious "sitting down," she said.
Snell said that she, the AFT and the VFNHP have been working to secure safer working conditions and higher pay at UVM Medical Center since contract negotiations opened in March.
"We don't have enough nurses," she said. "There are well over 150 positions open right now that need to be filled."
Snell would also like to see increased wages for Vermont nurses.
"A lot of nurses I know personally have two jobs to just try to save for a home here," Snell said. A lot of nurses can't afford to continue living in Vermont and are in need of a higher wage, she said.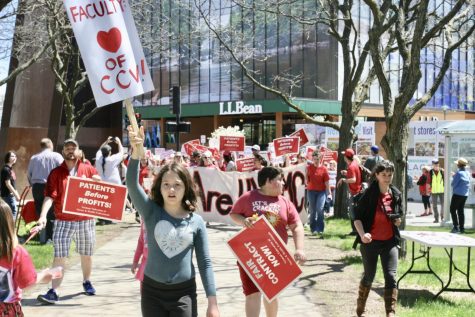 The hospital needs to "step up" and pay $15 an hour, she said. 
Christine Moon has been a registered nurse for the last 35 years, and has been at UVM Medical Center for the last 29 years. Moon said that the hospital needs more nurses and support staff.
"We need nurses," Moon said. "I workin a large recovery room and every day we have open holes."
There is also a need for more Environmental Services employees, who clean up after the patients, she said.
"They are mostly people of color, and a lot of them are immigrants," Moon said. "They don't get paid, they are at the bottom of wage pool."
Moon said she hopes that UVM will give all its employees fair wages and benefits. She also said she was "appalled" by the salaries for top hospital executives.
"To me it's a crime, and it's great injustice," she said.
Moon also said that nurses need free state tuition. UVM Medical Center nurses do not receive tuition remission — free tuition fortheir children — as UVM employees do, she said.
According to UVM Medical Center's website, employees are encouraged to continue ongoing education and many employees may be eligible for tuition discounts, scholarships and tuition reimbursement programs.
As the nurses began to arrive, Snell began her speech. Snell that nurses don't receive free tuition for UVM or other state colleges.
"It's crazy that people in this state can not afford to go to school in this state. It is not right and needs to change," she said.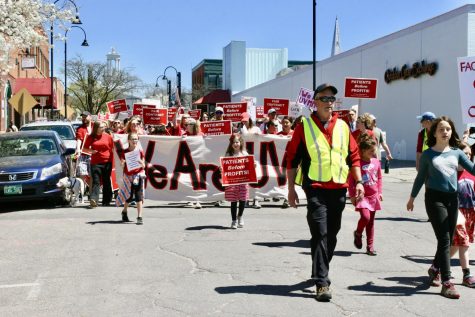 UA President Tom Streeter spoke at the rally and emphasized that UVM faculty stand with the nurses, saying that many of the people in charge making executive decisions don't understand their impact on the people below them.
"We live in a world where a lot of the decisions get made by the people who don't do the work," Streeter said.
Sanders made an appearance to thank the nurses for supporting universal health care and to tell them he supports them.
"I am here today to tell you that I stand with you … and to make sure the nurses in this state and across this country receive the wages and benefits they are entitled to," he said.
In a printed statement provided to the Cynic, Chief Nursing Officer Kate Fitzpatrick said the hospital is committed to reach a fair contract with the nurses.
"As is the case with every contract renegotiation, we are bargaining in good faith, colleague to colleague, and are committed to reaching a fair contract that is of value to our nurses, patients and families," Fitzpatrick said in the May 14th statement. 
Contracts negotiations began at the end of March and the nurses hope to be done June 1, Snell said.