UVM nursing students will graduate early to aid in pandemic
Senior UVM nursing students will be graduating early and receiving temporary working permits to directly aid in the response to the COVID-19 pandemic. 
The class of 95 students was alerted to the change in an email from Rosemary Dale, chair of the nursing and health science department, said Kathy Calisti, a senior nursing student.
"I got an email from Dr. Rosemary Dale saying we were going to graduate on May 1 and here we are," Calisti said. "You were given an option to opt-out but no one did."
All 95 students in the class of 2020 will be awarded a temporary permit from the State Board of Vermont which allows them to start working right away. The permit will last for 90 days.
On a normal timeline, UVM nursing students would have graduated from the University later in May, likely sat for their exam in the summer and begun working in the fall. 
For some, there is trepidation about the decision to fully enter the workforce as new nurses during a pandemic. 
Alicia Imbergamo, originally from Connecticut, is a graduating nursing student who intends to work in the UVM Medical Center in the cardiothoracic unit. 
"I don't feel as prepared as I'd like to," Imbergamo said. "A lot of us got our practicums cut short because of all that's going on but I do feel supported by the hospital staff." 
Sally Graholm, a senior nursing student from Maine, will be working at Maine General Medical Center in an in-patient medical/surgical unit.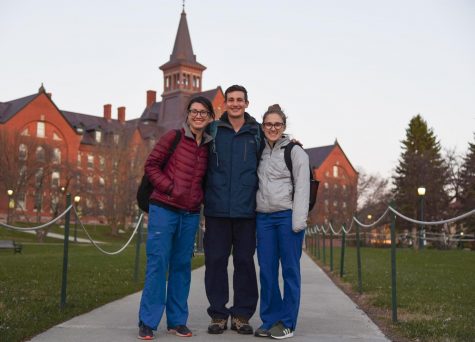 "We will need extra support when we enter into the workforce," Granholm said. "We are still orienting but having a few extra hands in the hospital may be very helpful to the hospital." 
Dale was influential in the decision to have students begin to work months earlier than anticipated.
"If they wanted to start working on May 2 they could," Dale said. "It's considerably ahead of the normal time that they would get their license and it's way ahead of the time that they would get their test with COVID."
All registered nurses must pass a national nursing licensing exam, but with COVID-19, it is unclear when the students will physically sit for their exams. Granting a temporary permit to the students allows for more help in the hospitals to better provide medical care. 
The nurses, with a temporary license, will be able to work in any state, like New Jersey and New York, that recognizes their temporary license, Dale said. 
Calisti said that even in a pandemic, she is looking forward to working at the UVM Medical Center. 
"I keep saying 'I signed up for this' and I think my classmates have too," Calisti said. "We are just doing what we want to be doing."
Some feel their skills will be better utilized in the hospital right now. 
"Given that we are doing online classes, I don't feel like I'm missing that much," Imbergano said. "I think it's a really great opportunity to work a little bit sooner and help out where we can."
The eagerness of both nursing students and the administrators who coordinated the temporary licensure does not surprise Dale. 
"Honestly I have never seen anything move so quickly at UVM," Dale said. "Everyone said that we have to do what we can as educators."
Even during a pandemic, Graholm said she is looking forward to entering the workforce at such a prominent time. 
"This situation makes us want to step up as much as possible and be the best nurse that we can be," Graholm said. 
To Calisti, there are bright moments even in this time of deep uncertainty.
"A blessing in this has been seeing my classmates really prevail," Calisti said. "It's an incredible class with incredible kids."
Leave a Comment