Alumni, push divestment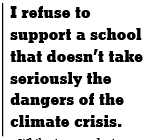 By Benjamin Silverman '10
I am a 2010 alumnus from the University of Vermont with a Bachelor of Arts in economics. It was with great displeasure that I read in the Oct.1 Cynic article about how the UVM board of trustees has no intention to move towards fossil fuel divestment.
While Richard Cate, who is now overseeing sustainability and climate issues at UVM, states they are looking at other avenues to pursue climate action, this is insufficient.
Truthfully, the level of disgust I have at my alma mater continuing to have $38.8 million invested in an industry that is careening humanity towards a climate apocalypse can't be easily expressed.
The lack of a basic moral compass at a time when we have less than 11 years to avert climate catastrophe is a sign of gross irresponsibility on the part of UVM.
While at UVM, I was part of the movement that successfully got the University to divest its endowment from companies like General Dynamics and others that manufactured depleted uranium and cluster munitions, both illegal munitions under international law.
This successful campaign showed me that the board of trustees and president at the time could be convinced to take principled stands with moral clarity. The board of trustees of UVM then believed in their responsibility for the socially responsible investing of the endowment. The board of trustees today clearly does not.
While at my graduate school, The New School in New York City, in my capacity as the elected co-chair of the university student senate, I was part of the successful campaign for that university to divest its endowment from fossil fuels.
It was there that I helped to illustrate the clear financial case for fossil fuel divestment. If humanity has any hope of survival, the vast majority of fossil fuel companies' assets, that is their rights to natural gas, oil and coal deposits, must never be realized.
Their oil and coal assets must forever be literally stranded in the ground for us to survive. The board of trustees at The New School believed in their fiduciary responsibility to not invest in companies with massive stranded assets and liabilities; the board of trustees of UVM clearly does not.
All of this is to say that I refuse to support a school that doesn't take seriously the dangers of the climate crisis. I refuse to support a school that sees its students' future as disposable, so long as they are getting steady returns on their investments.
To that end, as an alumnus, I will not donate my money or volunteer time to the University of Vermont until such time as it divests its endowment completely from all fossil fuel companies.
I will further be actively encouraging all my fellow UVM alumni to do the same: not a penny for UVM's endowment so long as that endowment is profiting off of humanity's destruction. If the leadership of UVM cares nothing for our planet's future, then I shall care nothing for UVM's future.