Beyonce: national figure beyond her music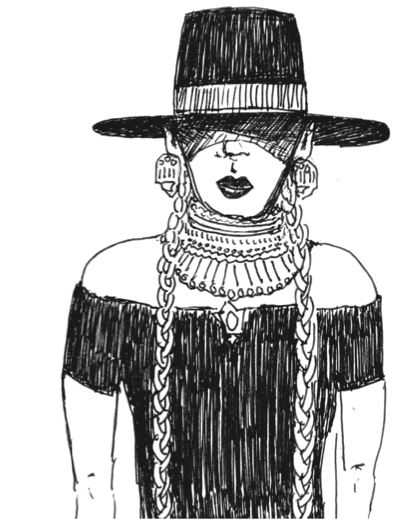 The other day I was assaulted with news that Bey was having twins! One of my roommates profaned our group chat asking if we had heard.
Beyoncé's announcement on Instagram broke the world record for number of likes. She is not just popular. She is the most popular person in the world.
I ended up writing a 2,200 word article about why I was disturbed by everyone going crazy about her having twins only to try to figure out why people loved Bey so much. What you have here is a very cut down version of that.
"Honestly, I think she's so popular because people have created this image of her being a deity," senior Savannah Miller said. "People think that literally everything she does is amazing."
But the most common response was "how can I possibly put into words my love for Beyoncé?" Some people whom I asked to comment asked for several days in order to formulate an adequate response.
I believe Beyoncé gives people access to the kinds of big feelings that they might otherwise be uncomfortable with expressing. "I love Beyoncé because I am connected to the love in my heart," senior Bri Rubin said.
More than that, Beyoncé has become a signifier for being a powerful woman. She celebrates the female body. Her songs "Run the World (Girls)" and "Formation" have become anthems for women everywhere.
"If I were a Boy" challenges double standards in relationships and in society. At the end of the video, Bey asks her boyfriend in the video, "Why are you so jealous? It's not like I'm sleeping with the guy."
They then reverse roles, and the boyfriend assumes his traditional role, asking her the same question through a smirk.
She ends the song lamenting through tears, "But you're just a boy/ you don't listen to her/ you don't care how it hurts." My transcript of the song here does not do it justice.
People like Beyoncé because she's bold. As my friend Matt Ganci, a senior, told me, "The idea of losing fans doesn't stop her. She isn't afraid to make political statements."
Beyond that, she's a source of strength for men and women alike. "For me, as a gay man, when I felt like no one understood what I was going through I could listen to a Beyonce album and feel heard and be lifted up," Ganci said.
I would say that my problem is that Beyoncé is not political enough. Her early music is decidedly inoffensive, and apolitical and sometimes a little bewildering (surf-bort?).
Lemonade, on the other hand, is more agressive.
Going into this I thought Carrie Underwood had done this already when she took a Louisville slugger to both headlights, but it's the way Beyoncé takes a baseball bat to a car that's striking: unlike Underwood, she's joyful. This is less an exercise in revenge than an exercise in liberation.
"Lemonade" is, if anything, a spiritual exploration. It tries to answer the question: who is Beyoncé? The video album opens with the song "Hold Up." Bey is submerged in water, praying.
Her entire bedroom is filled with water. She says she fasted for 60 days. "I threw myself in a volcano. I drank the blood and drank the wine…I crossed myself and thought… I saw the devil." The question emerges from the depths of her despair: "Are you cheating on me?"
Someone cheating on you makes you question everything. "I'm not this perfect to ever feel this worthless," Beyonce sings –– almost raps –– about how her suspicions were confirmed.
You see this adoration of Beyonce, her undeniable talent, the delightful persona that comes through in "7/11," and you got to ask yourself, "Who in their right mind would cheat on Beyoncé?" I think maybe she was asking herself that, and "Lemonade" is her attempt to find the answer.
"Formation," perhaps the catchiest song on the album, opens with Beyoncé crouching atop a police car. The car is half steeped in murky water.
But divorced from the imagery of the drowned squad car and the devastation of flooding, the song by itself is just about Beyoncé.
Why then, does she invoke this imagery of Hurricane Katrina? She contrasts the depictions of ruin with representations of ostentatious wealth. She dances in a mansion. What should we make of this?
Beyoncé's Super Bowl performance last year invoked the Black Panthers and sparked outrage from many people. I thought it was a pretty good show, but people said that the Super Bowl isn't a political forum.
Others applauded her for making a bold statement about police violence. But, and get this, Beyoncé is not a Black Panther.
I believed she was appropriating the Black Panthers to get attention. But maybe I'm being overly cynical. After all, Beyoncé has bailed out Black Lives Matter activists from jail without telling anyone in the press. Clearly, she's not doing that just for attention.
I might dislike her because of how famous she is, but if you think about it, her fame must be a real burden. Everything she says or does is examined under a microscope. I think it's actually amazing how she acts with so much poise and grace in the center of so much attention.
Perhaps, Beyonce's very existence is political. She's
an immensely wealthy black woman, loved by millions. Little white girls look up to her. No black woman singer has ever been in that position before. You might not like her music that much, but you gotta respect that.
Leave a Comment