Guest Commentary: When do we succeed at UVM? When our students do.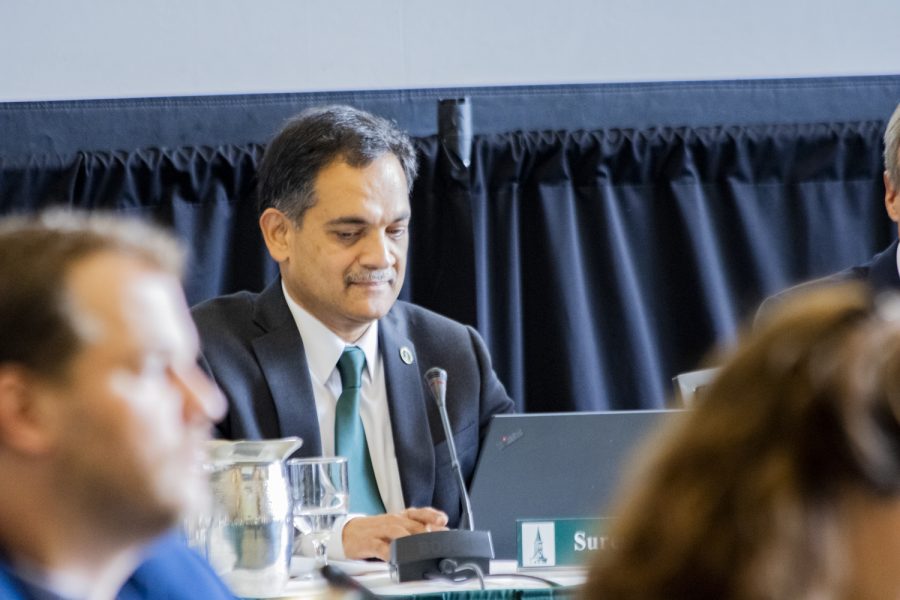 Editor's Note: This commentary is by Suresh V. Garimella, President, University of Vermont
A three-time Pulitzer-prize winning New York Times reporter. The first African American to be inducted into Phi Beta Kappa. Two Nobel Peace Prize winners.  One of Fortune magazine's "50 Most Powerful Women." The producer of the "Hunger Games" movies and a Golden Globes winner. And the author of one of the Library of Congress's 10 most influential books of our time. *
What do these ultra-high achievers have in common? All are alumni of the University of Vermont. 
The University's track record of producing highly accomplished contributors to society is no accident. 
Throughout its history, UVM has created a rich learning environment designed to help undergraduate and graduate students excel, both while they're at the University and after they leave, by showing them how to be critical, innovative thinkers. 
It's the mindset exemplified by another graduate, philosopher John Dewey, whose ideas shaped education and social reform in the 20th century. And it's the type of approach that will position our graduates to thrive — and lead — in our fast changing and highly interconnected world.
Continuing the tradition of promoting student success, and building the infrastructure to promote it, are at the top of my agenda for UVM.
Our approach begins with academics.
Liberal arts are at the core of the University — and will remain so. Study after study show that employers seek out rather than shun English, history, philosophy and other liberal arts majors, attracted by their problem solving abilities and knack for learning new tasks.
 In addition to preserving the excellence at our core, we are also adapting existing courses so they respond to contemporary issues — like a recent Homer course we offered to veterans enrolled at UVM — and evolving new areas of study.  
UVM's new data science and bioengineering majors and graduate programs, for instance, are attracting students in droves. Our neuroscience curriculum, just a few years old, is wildly popular with undergrads and Ph.D. students alike. And new cross-college hybrid programs are emerging, such as health and society, which uses the social sciences to address critical questions related to health. 
This model of bridging disciplines is one we plan to make emblematic of a UVM education — so an English major with a computer science minor, an electrical engineering major with a business minor or a natural resources Ph.D. with a certificate in complex systems are commonplace at the University. 
While enhancing the quality, variety and relevance of our classroom offerings, we are also motivating students to succeed by engaging them deeply in a range of experiential programs that enrich their classroom learning.
UVM's status as a small research university with highly productive faculty brings significant benefits not just to society, but to students, many of whom work in the research labs of their professors or assist with their scholarship. Even undergraduates — over 40% of them — report being involved with a faculty member's research before graduating, and many are transformed by the experience.
Helping students bring passion to their studies goes beyond the research lab. Our Career Center encourages students to expand their horizons by choosing from a vast array of internships; the center listed more than 14,000 last year, including 624 in Vermont. 
Similarly, nearly 500 study abroad options are available to students. And the University offers 90 service-learning courses that embed students in communities — from Vermont's Northeast Kingdom to rural Peru — where they put their classroom lessons to work solving real-world problems.
Thanks to these programs, 91% of UVM students report being engaged in an experiential-learning based activity before they graduate. 
As good as that is, I have an even more ambitious goal: that no student leave UVM without having had a meaningful research, internship, service-learning or study abroad experience.  
With so many choices, it's imperative that students have a roadmap to help them navigate their time at UVM. Enhanced advising is a critical component of our plan to prioritize student success. 
Quality academic advising is essential. All students need help deciding what courses to take and when to take them, learning what fellowships are available and determining what graduate programs to pursue. 
But we're also broadening advising to include career considerations that mesh with students' academic interests. In combination with a robust cross-campus effort to find and coordinate opportunities, advisers will soon routinely alert students to, for instance, an internship opportunity with a U.S. senator, a study abroad program in Colombia that emphasizes public health or a service-learning course in Dorset on flooding remediation. 
UVM's commitment to student success also recognizes the clear connection between academic achievement and overall wellbeing. 
The University's Wellness Environment has received national attention for its unique combination of substance-free housing, incentives that help students make healthy choices and a neuroscience course showing the impact that good — and bad — choices have on the developing brain. 
About a fourth of UVM's on-campus population lives in WE, and its effects have helped spur a culture shift across campus. High risk drinking has declined 34.5% over the past six years. 
Our commitment to student health is only expanding. With the opening of the Phiddy Davis Recreation and Wellness Center in 2022, a part of UVM's new athletic facilities project, students will have significantly more access to wellness programming and state-of-the-art fitness equipment. 
Last but far from least, our plan to promote student success returns me to the start of this essay: UVM's vast network of successful alumni, 100,000 strong, who live in every state in the nation and 101 countries. 
We've always connected our students with high achieving alums through regional events in Washington, San Francisco, Boston, New York, Burlington and other communities.
But more recently we've begun leveraging the power of technology to forge even more connections. Through UVM Connect, an online network, over 7,000 alumni, an exceptional figure for this new initiative and one that is growing rapidly, have volunteered to assist students in a myriad ways — from helping them network to lining up job interviews — and thousands of students are taking them up on the offer.  
And our emphasis on success won't end with graduation. I'd like UVM to act as a lifelong learning magnet for alumni interested in exciting online or on-campus courses designed to expand their knowledge and skills. 
The all-encompassing focus we place on student success continues to attract students to the University, keeps them engaged and prepares them to enter the world and truly make a difference. 
Delivering legions of highly skilled, deeply educated and well-rounded UVM graduates to the world's doorstep every year, who are eager to take on the thorniest challenges confronting the globe, is at the heart of UVM's mission. 
It's why my colleagues and I come to work every day.  
(*In order in the opening paragraph: Eric Lipton, George Washington Henderson, Jody Williams and John McGill, Charlene Begley, Jon Kilik and Gail Sheehy.)
The Vermont Cynic accepts Letters to the Editor and Guest Commentaries that are relevant to our readers. All letters and commentaries must include the author's first and last name. The Cynic reserves the right to edit letters for length and grammar and to reject letters for matters of taste and accuracy.
Letters and commentaries are voices from the community and do not necessarily represent the opinion of the Cynic. Please send letters to [email protected].