Housing and local employment for refugees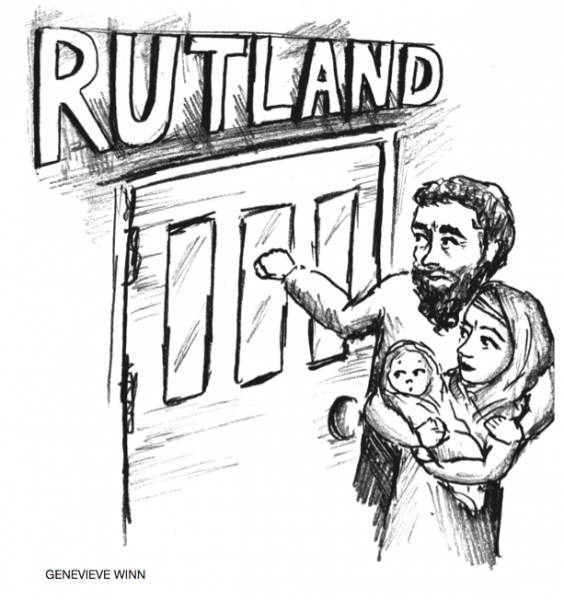 Housing
The Vermont Refugee Resettlement Program handles all refugees' housing needs from the time they arrive in Vermont.
A housing manager secures an affordable apartment for the family, assists in setting up the apartment and utilities and supplies basic household furnishings.
To ensure refugees are being treated fairly despite their many language barriers, the VRRP housing manager is also responsible for maintaining a relationship with the landlords and speaking on behalf of the refugees when necessary.
Seventy-eight leases were signed in 2015, with average rent ranging between $1000 – $1500, according to the U.S. Committee for Refugees and Immigrants.
Most apartments rented in this period were in Burlington, Winooski and Essex Junction, Vermont.
As many of us know, Burlington has a housing shortage.
It is becoming harder for VRRP to secure good homes for refugee families in the Burlington area. Because of this, Rutland has begun opening its doors to refugees.
Rutland Mayor Christopher C. Louras said bringing refugees to Rutland is a win-win situation; Rutland has plenty of housing for the refugees, and these newcomers will be able to fill the many job vacancies that exist in the local economy, according to National Public Radio.
Many community members in the historically working-class town in central Vermont disagree. The community has been divided over plans to bring in refugees for several years, according to NPR.
Many argue that the staunchly Eurocentric town will not be able to absorb that many newcomers from such a different part of the world, especially considering the fact that the town is 96 percent white, according to NPR. Many community members are also concerned about the cost of the program, as well as dangers to national security.
"Rutland First," an anti-refugee group originally created on Facebook, bears the slogan "Rutland before Refugees." The group strongly disagrees with the mayor's claim that bringing in refugees to their community will fix their economic distress.
Another group, "Rutland Welcomes," aims to ease tensions in the community and make the transition to Rutland as smooth as possible for the refugees.
Volunteers for the group have filled warehouses with donated household and personal supplies, organized school registrations and is eagerly awaiting the arrival of the newest community members.
Local Employment Opportunities
Starbucks announced it is against Trump's initial travel ban that targeted immigrants and refugees from seven preominantly Muslim countries.
In response, Starbucks said that it would hire 10,000 refugees over the next five years according to CNN on Jan. 29.
In the current polarizing — and often nasty — political climate, it was not surprising that the reaction was either to hail the company for being bold in its mission and steadfast in its core-values, or calling to #BoycottStarbucks, as the company was publicly defiant of the president's orders.
Amidst another "polarizing issue" back in 2013 concerning same-sex marriage, Starbucks publicly showed its support.
"Not every decision is an economic decision," CEO Howard Shultz said to Forbes Magazine in 2013. "The lens in which we are making that decision is through the lens of our people."
Starbucks has outperformed the food services industry, particularly the Standard & Poor's 500 index, since 2013.
As you may have gleaned from making it this far through this article, we, like Shultz, value not just the economic impact made by refugees but also the increased social and cultural diversity that they bring to America: the original melting pot of the world.
In this small state, there are efforts underway to increase the participation of refugees in the workforce, and in doing so, make them more economically and socially mobile.
One of the many success stories of refugee entrepreneurship in Vermont comes from the owner of Nepali Kitchen in Essex Junction, Vermont.
Jeetan Khadka was a Nepali refugee who was resettled in Burlington about a decade ago; he and his family were among the first Bhutanese to move to Vermont, according to Seven Days VT.
The restaurant is highly rated. It promises to take your taste buds through an authentic trip to India and Nepal.
On a personal note, I, Sarang, have had the pleasure of meeting with Jeetan on a few occasions. His community involvement is admirable, and the food at his restaurant is very good. 10/10 would recommend.
Some refugees even hold jobs at UVM; many work for UVM dining.
A Burmese refugee named Ko Gyi works as a cook at the Davis Center.
Gyi told Seven Days VT he hopes his kids can one day attend UVM. Like Khadka, Gyi hopes to embrace the entrepreneurial spirit and open his own business one day.
"Housing & local employment for refugees" is part of the three-piece series, "A Better Understanding of Refugees in Vermont's Economy." Learn more about Vermont's refugees in next week's issue.
View Comments(1)