Outdoor yoga brings a breath of fresh air
Dear COVID-19,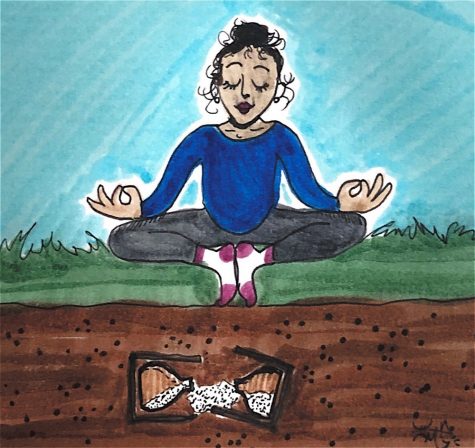 This may sound completely crazy, but I would like to thank you. This virus has caused immense suffering and pain on a large scale, but as I sit here reflecting on my time during quarantine, I realize it has done some good for my overall wellbeing. 
Before the pandemic, I could not recall the last time I read a book for fun, had time in my day for self care or had the energy to do an activity for pleasure. 
Now that the world has turned upside down and virtually stopped dead in its tracks, I have allowed myself to enjoy these small things that make life richer.
This break has allowed me to spend more time enjoying the outdoors. I have found that doing yoga outside is great for my overall wellbeing. 
Now that I have more time on my hands, I was able to fully immerse myself in a virtual yoga class. Yoga is so beneficial for my mental health and sanity during these difficult times, and I wish I allowed myself to try it sooner. 
As I take part in my outdoor yoga class I breathe in the crisp spring air and hear the wind chimes hanging from my trees as I complete my sun salutation. Peaceful doesn't even begin to describe how calming it is to do yoga outside.
My favorite part of a vinyasa flow session in shavasana. If you are unfamiliar with the term, it usually takes place at the very end of a yoga class and is when you lay on your back with your eyes closed and just sit there in complete silence.
I've noticed that when you sit with your eyes closed, your other senses start to work harder. In this shavasana pose I feel myself fully immersed with my surroundings and take in every detail.  
Although yoga isn't helping me get my degree, and yoga isn't giving me paychecks, yoga is providing me with stress free days, and this is something that in college, I was never used to.
I would like to say thank you, coronavirus. At first I hated you, but I have now seen your bright side. You still cause destruction and pain, but for some, you provide time.
For me, time was always a stressor, but now it relaxes me. Having time to perform my yoga classes outdoors is simply making me happy, and I appreciate that. 
Coronavirus, I hope you will go away, but I will never forget this hobby that I have picked up since being home. 
Sincerely,
Tori Scala