Former dancer shatters track records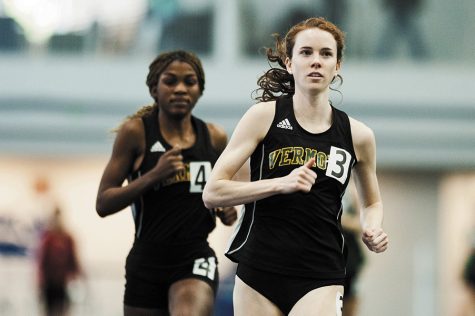 After 12 years of competitive dancing, senior Lauren Trumble of Ithaca, New York, chose UVM to pursue a collegiate running career on the track and field team.
Trumble later rose to track captain and broke the America East Championship record in February 2019, according to UVM athletics.
She also earned most outstanding performer with a personal best in the 1,000 meter run this season, according to UVM athletics.
With about one month left in her career as a middle-distance runner, she said she would like to break a few more records.
"I'd like to lower my 800 by two seconds and my 1500 by 15 seconds," she said. "Another America East title would be great. It's going to be hard, but I know I can put the effort in."
She began her running career after she decided to stop dancing during middle school, Trumble said.
"I used to competitively dance and then my parents told me I had to do a middle school sport," she said. "I chose running, and my dad ran in college so I ended up being good at it."
Head coach Matt Belfield said he feels fortunate that Trumble is on the team.
"She's one of the best and we're grateful for her in our middle-distance program," Belfield said.
In the program, runners train together in small groups with others who compete at the same distance.
Trumble's success in middle -distance running is part of a greater picture of the team's history, Belfield said.
"Our team has a strong middistance program, while southern schools tend to be more focused on sprinting," he said.
Fellow middle-distance runner Caroline O'Shea, a sophomore, admires both Trumble's running and leadership.
"She's one of the best leaders I've ever seen, and she's willing to say what needs to be said for the good of the team," O'Shea said. "She also really gets the job done with no drama and does what she has to do while being calm, cool, collected and humble."
As a biology major, Trumble wants to be a physician and doesn't want to pursue a professional running career, she said.
"I'll run for fun after college," she said. "I don't know if I'm the type of person that can go back and run 20 or 30 seconds slower."
The track and field team will have their only home meet, the Catamount Heptathlon, April 13 and 14.