Hockey secures two consecutive wins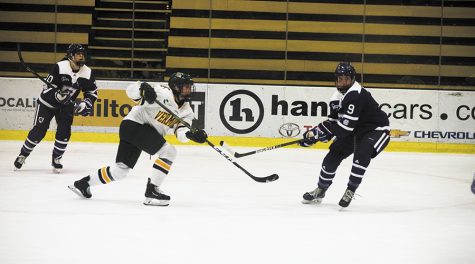 The UVM women's hockey team won Feb. 15 and Feb. 16 home games against College of the Holy Cross.
UVM entered these games with a 8-18-5 record.
The Feb. 15 game was military appreciation night and the Feb. 16 game was senior night.  
Vermont won both games scoring, 3-0 Feb. 15 and 4-1 Feb. 16.
Saturday's senior day celebrations honored seniors Melissa Black, Saana Valkama, Taylor Flaherty, Sammy Kolowrat and Alyssa Gorecki in an annual pregame ceremony.
The five seniors have played a combined 510 games and scored 73 goals, according to UVM athletics.
The Feb. 15 game began with the first goal one minute into the game by first-year forward Theresa Schafzahl, who came to UVM this year from the Austrian national team.
UVM rarely gave up the puck and then, with just over 10 minutes left in the first period, another goal came by sophomore forward Kristina Shanahan.
Schafzahl scored again from an assist by junior forward Eve-Audrey Picard.
Head coach Jim Plumer said the first period set the game's tone.
"It's not something that happens a lot, getting three goals in the first period, but it showed that we came out and meant business with a lot at stake in this game," he said.
The second period brought the only goal of the game and the weekend for Holy Cross.
A minute later, senior defender Sammy Kolowrat scored the final goal of the day.
Kolowrat, a co-captain and two time Hockey East All-Academic team member, was pleased with the Cats' performance.
"We're feeling pretty good. I'm hoping coming off the good sweep this weekend we'll take that momentum to next week," Kolowrat said.
Throughout the game, UVM had 40 overall shots on goal compared to 23 by the Crusaders.
Senior co-captain Alyssa Gorecki said she was optimistic about the one regular season game Vermont has left before playoffs.
"It's all super exciting, especially at this time of the year and as a senior, to see us play this well as a team," Gorecki said.
UVM will play their next game Feb. 23 at the University of Maine in their final Hockey East game before the postseason begins.