Intramural team requirements cause conversation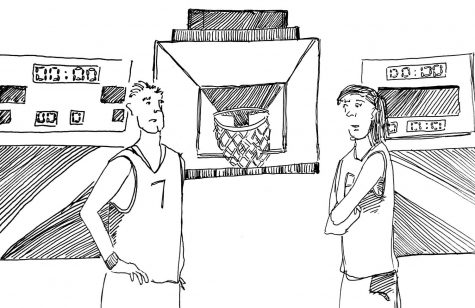 A co-ed intramural volleyball game was canceled because there were not enough men on the court.
Gender ratio requirements for intramural sports at UVM have caused some participants to question their necessity.
Co-rec teams have male and female players in order to balance the team's gender distribution per sport.
If this gender ratio is not fulfilled, the appointed referees will cancel the match, according to the UVM Intramural Sports handbook.
Senior Nicole Raccuia is a member of the Pounders, a co-rec ice hockey team. She is in favor of the gender-ratio requirement.
"Most would agree that male hockey players are more dominant and have more power over the female players in a co-ed situation," she said. "The ratio rule allows for the females to get just as much ice time as the boys."
For an intramural ice hockey game to occur, there must be two female players on the roster and on the ice at all times, according to the handbook.
Raccuia said she is one of three girls listed on her team's roster, which results in long and repetitive shifts.
"I've played intramural games where myself and other girls have needed to stay out on the ice the entire game because we didn't have any subs," Raccuia said. "Overall, I definitely think that the two-girl ratio requirement is a fair concept and I would encourage Campus Rec to continue enforcing it."
Seniors Carli Marino and Andrea Schmidt, on the other hand, play co-rec volleyball and are frustrated with the gender ratio requirements.
Co-rec games are the only option for intramural volleyball players.
There must be an equal number of female and male players on the court in order to have a game, according to the IMS handbook.
"In order to have six people on the court at a time we have to have three guys and three girls," Schmidt said. "We can't have four girls and two guys."
Marino and Schmidt have faced game cancellations and delays due to the gender ratio falling short on one side of the court.
"We almost called off having a team altogether because we aren't friends with many guys," Schmidt said. "I think we should be allowed to have whoever we want on our team, but that just doesn't happen."
She said that this contradicts UVM's stance on being gender-inclusive.
Marino said she is concerned that the gender ratio requirement reinforces   negative gender stereotypes, such as men being higher quality athletes than female players.
Furthermore, she said that the requirement actively excludes transgender and nonbinary people from inclusive participation.
"What if the ref doesn't think a trans man is a 'man?' Like, there's just not a clear precedent," Marino said.
Jordan Olson, assistant director of intramural sports, said all Campus Recreation  staff undergo multicultural competency training, including education on eliminating bias and assumptions as well as how to manage the program's gender related rules.
"Intramural Sports has a policy in place related to the participation of transgender and non-binary persons," he said. "We understand that these polices are not a perfect solution and we continue to evaluate these policies and procedures on an annual basis."
Olson said students who play in intramural leagues and tournaments are aware of the policies and need to be accountable for composing a roster which will allow them to compete in all of their games.
"The intramural sports program is always interested in hearing feedback from the student body," he said. "I encourage them to e-mail [email protected] with their opinion."
This article was edited at 3:06 p.m. May 5 to include comment from Campus Recreation.