Men's hockey wins against Merrimack
The UVM men's ice hockey team has broken their five game losing streak.
In an effort to rally against Mental Health, the Catamounts faced off and defeated Merrimack, 5-1 Jan. 25.
Vermont had a 8-13-1 record in Hockey East prior to this game, according to UVM athletics.
The Catamounts hit the ice with a strong initial start in the first period, but the play became quickly dominated by the Merrimack Warrior's offense.
Junior goalie Stef Lekkas fended off numerous shots, but a strong wrist shot maneuvered through his pads with seven minutes remaining in the period.
Head coach Kevin Sneddon said that the team did not perform to the best of their ability in the beginning of the first period.
"We played a little bit tentative in the first, turned pucks over," he said.
UVM returned to the ice with an obvious intensity after the Warrior's goal.
In the remaining minutes of the first period, Vermont outshot their opponent 9-1 and drew out two penalties for a five-on-three power play advantage to open the second period.
"Once we settled in, it was the best we've skated in quite some time," Sneddon said.
The Catamounts utilized their two-man advantage, scoring within the first minute of the second period.
Senior forward Matt Alvaro scored the power play goal.
Alvaro said that Vermont entered the second period by not being, "discouraged and sticking with it after Merrimack's first goal."
The Catamounts kept up their energy and impressive play on the ice, leading to sophomore defenseman, Christian Evers' goal halfway through the second period.
At the end of the period, sophomore forward Ace Cowans was called for a five-minute major penalty.
Vermont's cheering section became noticeably angry with "boos" directed at the referees, echoing throughout The Gut.
Burlington local and UVM fan Jake Miller was concerned after Cowan received a penalty.
"I'm worried," Miller said. "I hope the boys can blow through this without giving up the lead that they worked hard for."
UVM's defense held off Merrimack's attempts to obtain a goal during their one-man advantage.
"Our kill was sensational," Sneddon said. "The power play came up big to get us the lead."
The third period continued with three goals for UVM.
First-year forward Dallas Comeau and first-year defenseman Carter Long scored their first recorded goals for Vermont.
The final goal was shot by junior forward Derek Loderemeir.
After Friday's game, Vermont landed ninth in the Hockey East Conference rankings, one spot above Merrimack.
The Catamounts will go to Providence, Rhode Island to play Providence College Feb. 1 and Feb. 2.
About the Contributor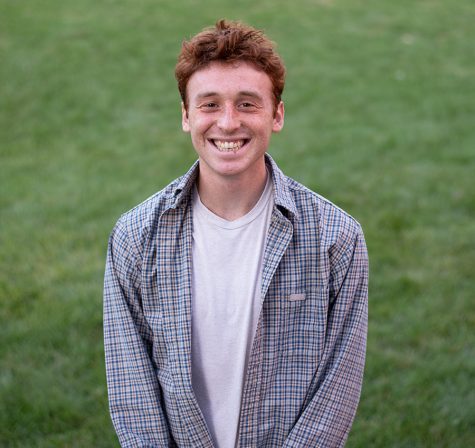 Alek Fleury, Managing Editor
Alek Fleury is an English and Political Science double major from New Jersey (the greatest place on earth). He dedicates most of his life to being the...