Men's soccer season comes to end in semis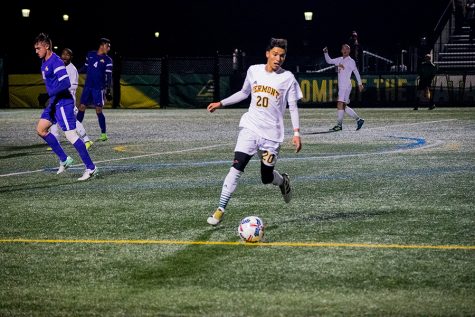 Men's soccer saw their season come to an end Wednesday at Virtue Field as they lost 1-0 to the University at Albany in the semifinals of the America East Tournament.
The Catamounts controlled play for most of the first half and held the majority of chances, but they were still unable to capitalize on any of these opportunities.
The Great Danes only had two shots on goal in the first half, but one of those was enough to decide the game.
Danes forward Nico Solabarrieta scored on a through ball from Danes defender Daniel Krutzen in the 32nd minute.
"Credit to Albany," UVM head coach Rob Dow said. "They made a play and were able to defend for the rest of the match."
In the preseason rankings, the Catamounts were picked to finish 7th overall, but were able to secure the No. 1 seed in playoffs with a record of 10-7-1.
"I think we outplayed them but at the end they scored the goal and won the game 1-0," UVM senior captain Tom Cole said.
Vermont had plenty of chances in the second half as well, including a free kick by junior forward Geo Alves that was saved by Albany goalkeeper Dani Vitiello.
"We continued to attack and attack, but it's soccer," Dow said. " That's why it's a brutal sport."
Albany had another very close opportunity in the 82nd minute as Daniel Krutzen's shot bounced off of the post.
The game was very physical with a total of 26 fouls called between the two teams and five yellow cards awarded.
Albany has given the Catamounts trouble for the last few years, as they haven't been able to secure a victory against them since 2014.
"Since I've been here we have beat them once, maybe," Cole said. "They are just tough to break down."
Four seniors from the team are graduating: Arthur Bacquet, Tom Cole, Zack Evans and Eamon Kitson. Dow stated that they left a legacy in his first year as head coach.
"This year we won a league championship, and that's something to be proud of," Dow said.
Looking ahead to next season, the Catamounts return much of their starting lineup.
"Tom just said it best in the huddle, the team's in a great spot for us to compete for a championship, multiple championships next season," Dow said.
Albany will play for the America East Championship at UMass Lowell Sunday, Nov. 12.