Pack the Gut sees third largest crowd yet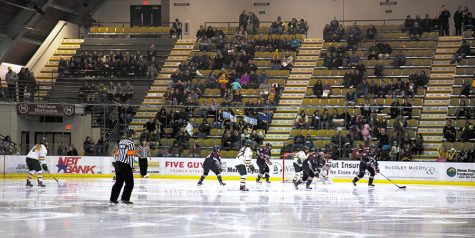 The UVM women's hockey team played against Boston University Feb. 3 in the annual Pack the Gut event.
1,967 fans were in the stands for the challenge to break the Women's Hockey East attendance record of 2,136 fans, which was set two years ago in Vermont, according to UVM athletics.
In front of the third-largest crowd in the event's history, the Catamounts lost 7-2.
Vermont currently has a No. 8 ranking in Hockey East with a 10-20-5 record, two spots below the Boston University Terriers, according to the Hockey East website.
Sophomore Sarah Davis said that she was excited to go to Friday's game.
"I'm really looking forward to watching the girls tonight," Davis said. "It's great to be among this large crowd of supporters, you can really feel the energy."
The Catamounts started the first period with noticeable energy, mirroring the enthusiasm that radiated from the crowd, she said.
First-year defense Sini Karajalainen scored the first goal in less than five minutes, giving the Catamounts an immediate lead to start the game.
Boston responded with three goals over the remainder of the period, leaving the scoreboard at 3-1 to start the second.
Cecilia Curtain said she is on the Montpelier Radiers U13 club ice hockey team and went with them to watch and learn from the game.
"UVM is playing well," Curtain said. "Boston is a good team, but the Catamounts are working hard. We're looking forward to the second period."
Boston continued to control possession and dominated play in the second by scoring two goals.
Sophomore defense Anna Erickson responded to this and was able to break through Boston's barrier, scoring Vermont's second goal of the game.
Boston finished the third period with two additional goals, defeating UVM 7-2, which is the Catamounts fifth straight loss, according to UVM athletics.
Head coach Jim Plumer acknowledged the energy in the crowd.
"The energy in the building was fantastic," Plumer said. "They deserved a better effort from our team."
In the future, junior Summer Maklub wants to see more effort from UVM students in supporting women's hockey.
"The turnout was great tonight and the energy was lit," Maklub said. "I think it needs to be like this for every home game. Women's hockey games are just as fun as the guys."
Friday night's crowd was filled with UVM students of all ages.
First-year Kyra Morrison said that she had never attended a women's hockey game before, but ended up having an awesome experience.
"All my friends and I decided to come tonight and show our support for the team," Morrison said. "It was a fun game, especially because of the crowd's enthusiasm."
The Catamounts will travel to the University of Connecticut Feb. 8 to face off against the Huskies.