Former City Council member Adam Roof runs for State Senate
Three months after losing his Ward 8 City Council seat to newcomer Jane Stromberg, Adam Roof is ready for his next step in politics, campaigning to be Chittenden Country's State Senator. 
Roof was the incumbent for the City Council race, which took place in March, and he acknowledges he has learned from the experience and he is ready for the next step in his political career. 
"You learn more from your losses," he said. "So I'm glad to have learned, and now I'm moving on." 
Roof said that he decided to enter the race after seeing the consequences of the COVID-19 pandemic around him, and how it was hitting Vermonters hard. 
"When the pandemic set in, I really started to see a bunch of different perspectives because I'm blessed with having different communities that I am a part of," he said, "I'm seeing the most basic things that Vermonters need and hold dear are at risk." 
Even though Roof is trying to appeal to more people, the overall goal of this campaign is the same as it was in the city council race. 
"We are approaching it from the same way we approached the city council race, which is to try to connect in meaningful ways with people about the things that they care about," he said. 
Roof said that he is surprised that in some aspects, this campaign has not felt different from other campaigns he has run. 
"You spend time doing the same thing, you're connecting with as many people as you can," he said, "We're just doing that on a larger scale." 
What has been different from his previous campaigns is that they are doing it in the middle of a global pandemic, and Roof's team has had to find alternative ways to campaigning to still connect with potential voters while remaining safe. 
"It forced us to rethink how we organize from the grassroots up," he said. "We've used digital tools a lot differently and a lot more to connect with people in a meaningful way." 
One of these ways is using more phone calls to connect rather than knocking on doors. 
"You can't really knock on doors in a pandemic," he said. "It's also a bigger geographic area, so it's kind of hard to reach everyone on foot even if we could. So phone calls have been really valuable." 
Roof said his particular background helps him relate to a variety of different people.
"I have this unique experience that really supports workers and supports businesses, not just in my five years of government, but also as a nonprofit leader," he said. 
Roof said that even if he wasn't running to be a state senator that he would have been involved in politics in a different way. 
"I have always had a passion for public service and government. It's a big part of my life," he said. "I would have been involved one way or the other." 
Current Ward 8 city councilor Jane Stromberg agrees and says that she would still be engaged in local politics.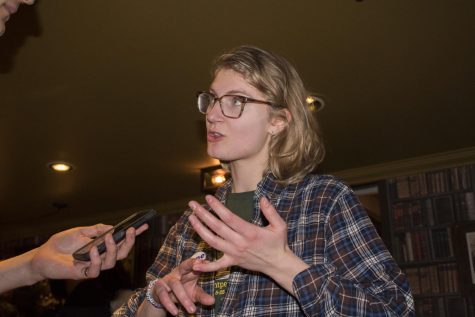 "First I would take a little vacation (or staycation), recenter myself, and probably get involved/work for an environmental nonprofit, or start one" she said.
Stromberg also said that she would probably help candidates that were running for office in the coming election cycle. 
As for Roof's new campaign, he believes that this time his platform is intersectional. 
Roof believes that when a candidate focuses too much on one issue they overlook others that are equally as important to constituents. 
"[Candidates can] miss the whole point of what we need to be doing today to get through everything we are going through," he said, "Whether it be the pandemic or the financial crisis or the racial issues."
One issue that he says affects all UVM students is environmental sustainability and the green economy. 
"[Vermont] is well-positioned to be that guiding light that grows the green economy… and that it will create a lot of jobs," he said. 
Roof recognizes how students at UVM are invested in environmental issues, and if Vermont is able to grow their green economy it will create jobs for UVM students. 
Another issue Roof said that he is passionate about is investing in families with kids ages 0-5, something that he says he believes isn't talked about enough. 
"We invested a fund, the Mayor's fund, of $500,000 a year to support that age group," he said. "Which has tremendous benefits downstream in both education and health care." 
As for this race, Roof said that he feels ready to represent a bigger group of people. 
"My experiences are valuable in this conversation," he said. "I think I can serve well, we have committed to this process, and we will run this campaign." 
This article has been updated to correct a factual error.
Leave a Comment