Pep band brings energy & enthusiasm
Although Gutterson Fieldhouse is mostly empty on a Wednesday evening, music, lights and action fill the gym.
Instead of cheering fans, empty instrument cases lay scattered over the bleachers. Musicians dance with their instruments, rocking back and forth and up and down.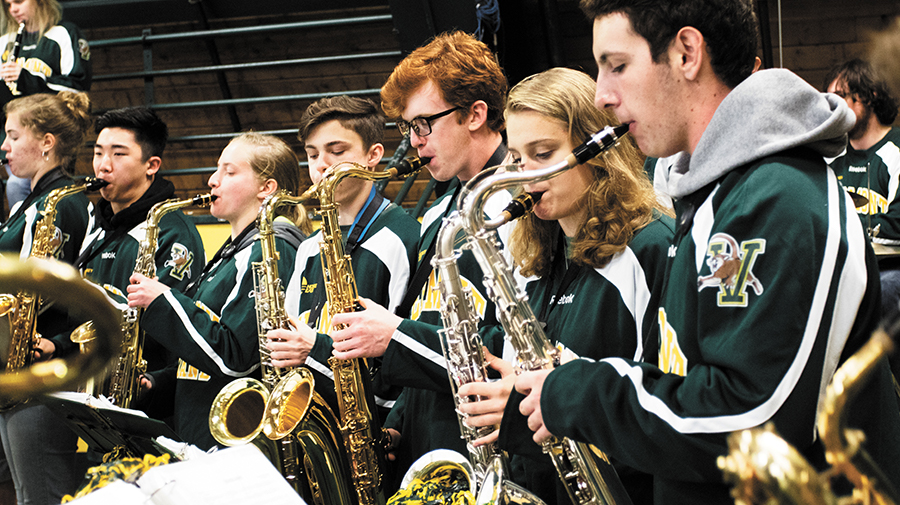 The Catamount Pep Band gathers to rehearse every Wednesday evening from 8p.m. – 9:45 p.m.
The Pep Band is the official band of the UVM athletic teams. The ensemble consists of 40 to 50 musicians, according to the UVM athletics webpage.
At rehearsal, Junior Emeric Rochford plays his alto saxophone with the rest of the pep band.
Rochford has been playing for the pep band for four years, which plays at home games for hockey, basketball and soccer.
Rochford had his eyes set on the band before he even started school, he said.
"I knew I wanted to come here, and I knew I wanted to do pep band," Rochford said. "It's just fun to keep playing."
Rochford grew up in Waitsfield, Vermont and attended Harwood High School, he said.
He began playing saxophone in the fourth grade, and eventually settled in with the alto sax, he said.
Senior and Pep Band trombone musician Mallory Curtis smiled after hearing Rochford's name.
"Sometimes the cameramen for the news crew will film Emeric … dancing [along with] the dance team rather than the action on the floor," Mallory said.
Occasionally, Rochford and the band get the opportunity to travel, he said.
"Everyone in the band is great," Rochford said. "It's high energy and it's a bunch of fun kids."
Rochford said that many of the students in the band simply wanted an excuse to continue playing their music after high school.  
Pep Band Co-Director Jack Curtis began playing in the band when he was a senior in high school, and took over the band with Co-Director Neil Wacek during the 2009-2010 season, he said.
When asked about Rochford, Jack grinned widely.
"Oh yes. He's a great guy," he said.
Jack Curtis proceeded to call Rockford down from where he was setting up to play and patted him on the shoulder.
Despite how cheesy it might seem, his favorite part of directing is working with the students, Jack said.
"Ultimately, it's their band," Jack said.
Rochford knows the impact his playing, as well as the entire band, has on events, he said.
"I've been to the games when there's no band because I would come during the winter break, and it's a different sound," Rochford said. "But when we're there it feels like it's part of an event. It really brings the vibe and the energy up… it's nice to know that it changes things."