Acclaimed cartoonist unfolds path to fame
In the UVM Recital Hall, the blue light of an e-cigarette glowed against the dark of the stage.
It brightened and diminished, mirroring the cadence of its user's accent-inflected speech.
Art Spiegelman sat in an armchair with his feet crossed. The suit vest and dress shirt he was wearing resembled the outfit his character wears in his best-selling graphic novel, "Maus."
The acclaimed cartoonist visited Vermont Oct. 19. Spiegelman participated in a public conversation moderated by the chair of the English department, professor Daniel Fogel.
Anthropology professor Jonah Steinberg praised Spiegelman in his opening remarks.
"Art is an amazing anthropologist and a narrative superhero," Steinberg said.
Spiegelman insisted on reading his own work on stage. Images of his art were projected on screen to accompany the discussion.
Fogel and Spiegelman had spoken on the phone a few days before the event in order to plan the discussion, Fogel said.
"The questions I asked were pretty much the ones I'd drafted originally, but there were variations and additions on the fly that were part of the ebb and flow of our conversation," he said.
The recital hall was filled to the brim, with attendees spilling out of the seats, onto the floor of the aisles and into the spaces between door frames. Everyone there was present to hear Spiegelman share his story.
"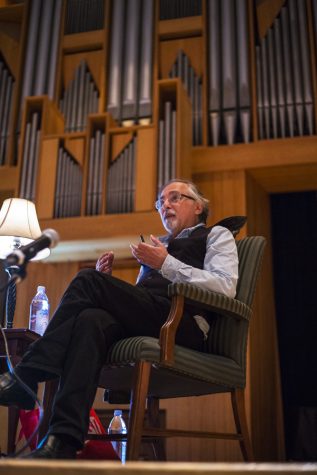 I needed to create something that didn't exist at the time: a long comical narrative that would need a bookmark and to be read more than once.
— Art Spiegelman
Spiegelman and his wife Françoise Mouly founded RAW magazine, an underground comics anthology, in the 1970s, he said. Mouly bought a printing press and together they hauled it up four flights of stairs to their loft in New York City.
RAW's first issue was printed in black and white because that was all they could afford, Spiegelman said. The magazine went on to recharge the alternative comics movement that had begun with MAD magazine in the 1950s, he said.
Spiegelman is most well-known for his graphic novel, "Maus." The book, which tells the story of his father's time in Auschwitz, was a 13-year project, he said.
"Maus" won a specially awarded Pulitzer Prize in 1992.
"I never expected 'Maus' to be a way for people to learn about the Holocaust," Spiegelman said.
In fact, his reason for writing the novel had more to do with the craft than the story.
"I needed to create something that didn't exist at the time: a long comical narrative that would need a bookmark and to be read more than once," Spiegelman said.
Spiegelman was also the artist behind 40 covers of New Yorker. Several of his covers over the years were controversial, he said.
"In the world before the internet, there had never been so much outrage," Spiegelman said, referencing a particular cover he created which featured a Jewish man and black woman kissing.
"Cartoons are built on racism and stereotypes," he said, "but it is up to the intelligent cartoonist to counteract those stereotypes."
Spiegelman also discussed his book of comics "In the Shadow of No Towers," a reaction to the September 11 attacks, published in 2004, with Fogel.
"I found myself still checking days later to see if the [twin towers] were still not there," Spiegelman said.
I was stuck on the aftermath of Sept. 11 for two years, so I had to write about it, he said.
Spiegelman revealed that his next project is not in a medium he has worked in before.
"I'm making as many lithographs as I want for the next year," Spiegelman said.
Lithography is a type of printmaking that uses stone as a surface, he said.
Spiegelman was unable to concretely define cartooning, but he was able to emphasize the art's importance.
"Cartoons stand still in a more and more visual world," he said. "We are able to revisit them, and they help us to understand our world more simply."