Author returns to a painful past
Literature lovers and history buffs alike will be interested in a spectacular event coming to Burlington next week.
Local author Mary Fillmore will be speaking at Phoenix Books in Burlington Oct. 4. The event begins at 7 p.m. and will celebrate the release of her new book, "An Address in Amsterdam."
"An Address in Amsterdam" is the story of Rachel, a young Jewish woman who joins the resistance against the Nazi occupation of Amsterdam during World War II.
The book is inspired by Fillmore's personal experiences in Amsterdam, a city she said she ardently fell in love with. While there in 2002, she discovered the apartment above her own had once served as refuge for Jewish families escaping the Nazis.
"I began to wonder about them," she said. "Who were they? There wasn't any objective fact to be found, so they began to come to my imagination instead."
"An Address in Amsterdam" took 13 years to write, Fillmore said. She not only worked on the novel on the porch of her Burlington home, but also traveled back to Amsterdam five times for extended stays.
Writing has been an interest of Fillmore's since childhood, she said, but until recently it was simply something she did for pleasure.
"I never had a subject that I felt was so important that I had to overcome all the other pressures in my life and write," Fillmore said.
This changed when she came across the idea for "An Address in Amsterdam," she said.
Fillmore suggests young aspiring writers keep a journal. "That is where you can express your voice as it really is," she said, "without tempering it for anybody or anything."
Fillmore said she hopes readers will be as inspired by Rachel's courage and ingenuity as she was herself.
"If Rachel and her family were courageous in their time despite their peril," she said, "I had better be courageous in my time about the things I care about."
Fillmore will also be meeting with UVM Hillel students at 3:30 p.m. Oct. 6 to talk about her novel and the issues presented in it.  
Sharon Silverman, the assistant director of UVM Hillel, had the pleasuring of meeting Fillmore at an exhibit sponsored by UVM Hillel and the LGBTQA Center, she said. After hearing about the book Fillmore was writing, Silverman said she knew there was an opportunity to collaborate further.
"After the book launch, we look forward to sitting down with her and hearing from students about ways in which we can collaborate in meaningful and exciting ways," she said.
Tickets for the event at Phoenix Books are sold out, but Fillmore will also be signing books in New Moon 5-7 p.m. Oct. 5.
About the Writer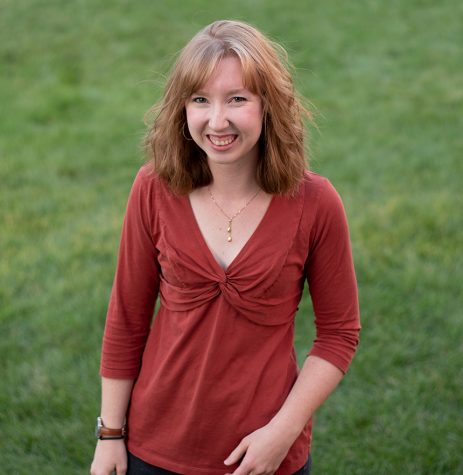 Bridget Higdon, Editor-in-Chief
Bridget Higdon is a senior English major from Sparta, New Jersey. Before becoming Editor-in-Chief, Bridget was a staff writer, the Assistant Arts Editor...