Behind the scenes of Fallfest's lineup
Princess Nostalgia, 99 Neighbors and Coast Modern have already left the stage of FallFest 2019, but there's more to these performers than the set they gave on Saturday.
Coast Modern, a duo hailing from the West Coast, consists of members Luke Atlas and Coleman Trapp. The duo said they were excited to meet and impress the students of UVM, whether they are fans or not.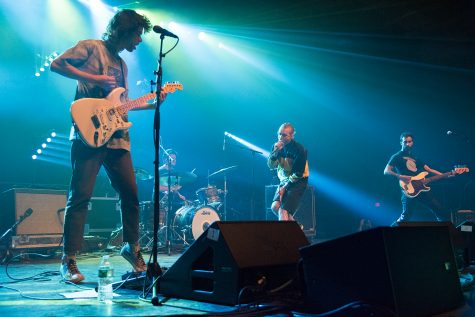 "That's our favorite mix of people because we have to work a little harder to win some people over," Trapp said. "At first they're usually confused, but by the end, they're getting twisted with the OG fans."
Coast Modern has only released one album among a slew of hit singles and a mixtape, but with the promise of a new year comes the hope for a new album.
"There's an avalanche of new music just waiting to bust off that snowy mountain, if you get my drift," Atlas said. 
UVM's own Princess Nostalgia took the stage as well. Senior Lili Traviato, whose stage name is Princess Nostalgia, said she still has the same passion she had for music from when she first stepped foot on campus.
Now she has performed in front of her peers, classmates and strangers, but even with her newfound fame, she continues to appreciate where she's come from.
"I've always had faith in the fact that hard work yields results, so it's validating, but not surprising, to bear witness to the fruits of my labor," Traviato said. "The creative process requires that we push our boundaries and make room for the awkwardness that growth entails."
Traviato said she gets a lot of inspiration from the art scene in Burlington. 
"The scene is small enough to quickly learn the lay of the land but big enough that there's always something interesting going on," Traviato said.
Burlington locals 99 Neighbors also ripped up the stage this past weekend. The group consists of nine main members. Sam Paulino, HANKNATIVE, Swank, Somba, Aidan Ostby, Jared Fier, Juju, Cal Rawlings and Shane Kaseta. 
"A lot of us grew up seeing concerts at UVM's fall and spring shows so for us to be one of the main acts is pretty surreal," Paulino said. "Hometown shows are always fun and having it on campus makes it guaranteed to be wild." 
Recently, Somba said the group moved to Chicago to pursue their music closer to where the action is.
"It's a great change of pace to be in a big city, there's a million new influences. Part of our label is also based here so having them close by is a huge help," Somba said.
99 Neighbors started off playing venues like Higher Ground, but have since moved onto performances like Rolling Loud, Made in America and Lollapalooza.
"It's still the same group of friends traveling and doing our thing," Hank said. "And our heroes are becoming closer to being our peers."
99 Neighbors has only released singles since they've started making music, but they continue to polish their sound. 
"We have some more new music to show everyone and then we're taking some time to focus on the quality of the music," Swank said.
FallFest took place Oct. 19, but it's safe to say that this is not the last stage we will be seeing these performers on.