Boston horn duo returns to steal Nectar's spotlight
Despite the chilly weather, one band is sure to heat up the night this Friday.
The Hornitz will be performing Feb. 26 at 10:30 p.m. at Nectar's, a stage they said is one of the best in the country.  
The duo, made up of Stoobaka Dashiki and Friendship, boasts, "the biggest, baddest party-funk experience you've never heard in your life," according to their website. 
Hailing from Boston, the band had its humble beginnings back in 2006 as a two-man horn section for hire.  
"We were horn prostitutes," Dashiki said.  "We were into the festival scene, and this gave us an in to pretty much every festival."  
But in 2008, the group moved out of the background and into the spotlight and began writing and performing their own original music, Dashiki said.
Their musical repertoire has expanded to include beatboxing, trombone, saxophone and keyboard, all combined with a looping machine to mimic the sound of an entire funk ensemble, he said.
While Dashiki plays the tenor sax and keyboard, Friendship plays bass trombone and beatboxes, according to the band's website.
"Our main goal is to create a really fun dance party," Dashiki said.
"We go about that in a couple traditional ways and some non-traditional ways," he said.
The band has played alongside funk acts such as George Clinton, Guster and State Radio according to their website.
Though the group has had much of its success out of the spotlight, Dashiki said they use the extensive knowledge gained from those experiences to create unforgettable, genre-blending shows.
"Our main cause has become fun, whether [that means] to enjoy music, escape from the world, rock out or shake your body parts," Dashiki said.
The Hornitz have three shows booked in Vermont, according to their website. After Burlington they will go on toplay in Jeffersonville, followed by West Dover.
Dashiki said they are excited to come back to Nectar's, and hope to see some familiar faces in the crowd.
"Playing at Nectar's is by far one of our favorite places to play," he said.  "A lot of fun, fond memories. One of the most fun nights we had there was playing horns with Deadset."
The Hornitz will be playing at Nectar's Friday Feb. 26 at 10:30 pm.  Tickets are $5.  
About the Writer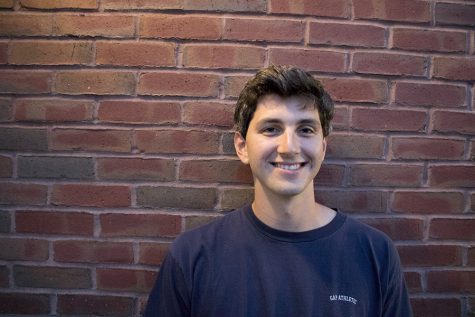 Ben Elfland, Managing Editor
Ben Elfland is the managing editor at the Vermont Cynic. He is a senior studying public communication with a minor in writing. His introduction to journalism...