Burlington's Father Figuer opens at Higher Ground
The lights faded and the crowd gathered as the music blared into the cold night. 
Higher Ground, a music venue in South Burlington, hosted the Virginia based band Illiterate Light and UVM's own rock band Father Figuer take the stage on Monday Sept. 16.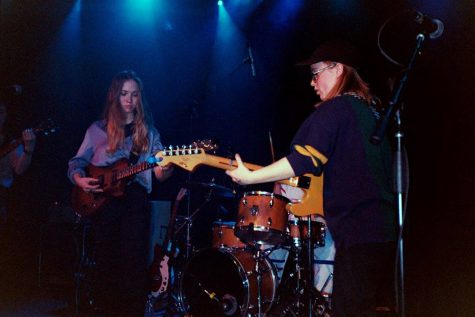 The UVM student band consists of four members: David Roche on bass, senior Elise Albertini on drums and seniors Caroline Franks and Erin White on guitar.
"We started playing as Father Figuer in the beginning of Spring semester my sophomore year," senior drummer Elise Albertini said.
A few of the members have been playing music since childhood.
"I started playing guitar when I was five," Albertini said. "But I picked up the drums when I was in fifth grade." 
Bassist David Roche said that he has taken private guitar lessons in middle school but switched to bass in high school.
The Sept. 16 concert didn't go off without mishaps. 
"I forgot my drum seat, and the other band was using a standing drum set, funny enough," Albertini said. She had to make do with a folding chair as a replacement that night.
The band said that opening for Illiterate Light was a pleasure.
"I hadn't played out in a band for over two years, and now I'm opening for two guys that busted hump to get out of the basement scene," Roche said. 
Albertini said she has a love for almost all types of music and has many inspirations. 
"A lot of what I play and how I play is almost mimicking artists that I really like," Albertini said.
Father Figuer has plans for the future, a following, and have made a name for themselves. 
You could see the passion and love the band has for performing, and it was clear that all the members work hard to produce their own sound.
As the band jammed on and music filled filled the room, the crowd cheered on as the lights roared overhead.
First-year Grace Hasselbach said that while she wasn't planning on seeing Father Figuer, she enjoyed the show.
"I didn't know what to expect at first, but I was really impressed by their talent." Hasselbach said.
Father Figuer has shows coming up on Sept. 30 at Arts Riot, and Oct. 30 at The Fryer.