Classical duo strikes a chord at UVM
As musicians tuned their instruments, classical music lovers and Lane Series regulars filed in for an unforgettable performance. 
Cellist Matt Haimovitz and pianist Simone Dinnerstein performed Oct. 11 in the UVM Recital Hall.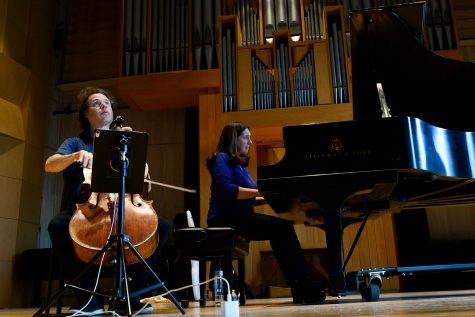 As part of the Lane Series, a Friday night concert series presented by UVM , the cello and piano duo kicked off the classical performances for the season. 
Originally solo artists, Haimovitz said it has been a treat for the two of them, as well as their audiences, to hear this extraordinary duo together. 
"It's great. She's so sensitive, she can do anything," Haimovitz said of Dinnerstein. "It's such a pleasure."
Haimovitz and Dinnerstein each played solo pieces composed by Philip Glass.
Glass has composed symphonies, operas and film scores that have gained him popularity in the music world.
 Hamovits played Partita No. 2 for Solo Cello and Dinnerstein played Mad Rush for Solo Piano. 
Lynn Paparella, executive director and CEO for Stowe Performing Arts, raved about this performance during intermission.
"It was the most sensuous thing I've ever heard," Pararella said. "It was jarring in a sense."
Other audience members were captivated at how physical and emotive the performance was, like senior Madison McNamara.
"The emotion just bleeds through," MacNamara said. "They're not up there just playing music, they're actively participating in it and engaging the audience." 
Glass originally composed Partita No. 2 for Solo Cello for his girlfriend, who plays the cello, and he cast this piece away into a filing cabinet for seven years upon their breakup. 
Years later, while Haimovitz was growing in fame and notoriety, Glass asked the cellist to read and debut the piece.
"He wanted me to premier his second cello concerto, he sort of just picked me. And then we became very close," Haimovitz said. Natalie Neuert, director of the Lane Series said Glass is known for repetition in his work.
"It forces your brain to listen for the slight variations in the repetition," Neuert said. "It's like a musical mantra." 
Haimovitz's energy and expressions could be observed through the movement in his face, body and bouncing of his hair with every note. 
Dinnerstein's expertise was revealed after she performed a 20 minute solo with her eyes closed nearly the entire time. 
"Her eyes were closed but her facial expressions gave an entirely new dimension to the performance," McNamara said. "It was like she was in a room all by herself, pouring out all of her emotions through the music."
The artists were praised with standing ovations, and excitement for their performance continued when they came out for an encore, performing "The Orchard" by Glass.
McNamara said the show left her in awe of this marvelous duo. Haimovitz and Dinnerstein have gained several new fans in themselves and in the composers they presented.
"I was definitely not a Philip Glass fan before this concert, and I didn't really know who the artists were either," McNamara said. "But that's totally changed. Their music is definitely going to stay on my radar."