Comedian returning to Burly for round two
One comedian is most easily recognized by his voice.
Kyle Kinane has been the voice of Comedy Central for the last five years, doing on-air announcements in addition to frequent appearances on "Bob's Burgers" and "Drunk History."
For Kinane, comedy has been a long battle. He began his career in 1999 in his hometown of Chicago with limited success, he said.  
Determined to pursue stand-up, he moved to Los Angeles in 2003 to take comedy more seriously.
"I never thought I was going to be famous," Kinane said. "I just wanted to give myself the best opportunity to maybe become a professional comedian."
Following the 2010 release of his debut album, "Death of the Party," Kinane captured the attention of the industry and was named one of Variety's 10 comics to watch that year, according to their website.
Fellow Comedy Central star Patton Oswalt, who Kinane has frequently opened for, praised him for being a comfortable and relaxed performer in a 2010 interview with Variety.
Since his first album, Kinane said his relationship with Comedy Central has grown, resulting in stand-up specials like "I Liked His Old Stuff Better" and "Whiskey Icarus."
Kinane promised fans they will be getting the same high quality of material they have come to expect on this tour.
"What to expect? The same old stuff," Kinane said. "I've been labeled as a storytelling comedian. This time I'll be talking about way more weirder stuff, getting into aliens and ghosts and stuff like that. I'm not going to talk about the presidential race."
Though longtime fans will certainly enjoy the show, he said he is equally excited to attract a new audience.  
Kinane is confident that the show will not just be a showcase of his skill, but a meeting place for people with a similar interest, he said.
"Everyone there is friends," he said. "A lot of people ask if it's weird to be getting a single ticket for the show and I tell them, 'Nope, there's gonna be a few people doing that.'"
This will be Kinane's second performance at Vermont Comedy Club.  The club is particularly excited to have Kinane for St. Patrick's Day weekend, according to marketing director, Keilani Lime.  
"Kyle is a hilarious, freewheeling Irish storyteller," Lime said.
Kinane will be performing at the Vermont Comedy Club March 18 and 19. Tickets are $20.
About the Contributor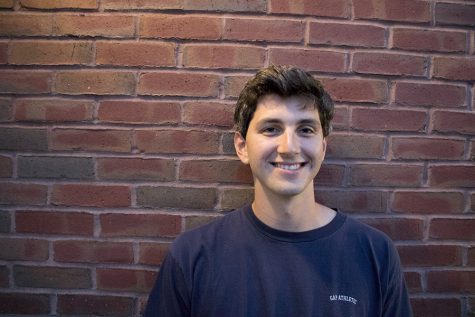 Ben Elfland, Managing Editor
Ben Elfland is the managing editor at the Vermont Cynic. He is a senior studying public communication with a minor in writing. His introduction to journalism...