Composer performs in protest for 24 hours straight
In the middle of the night Oct. 24, young Burlingtonians hopped from bar to bar along Church Street while a lone violin song fought to be heard.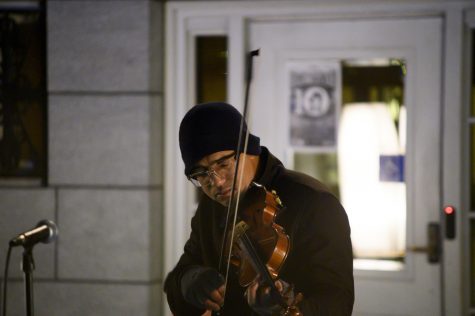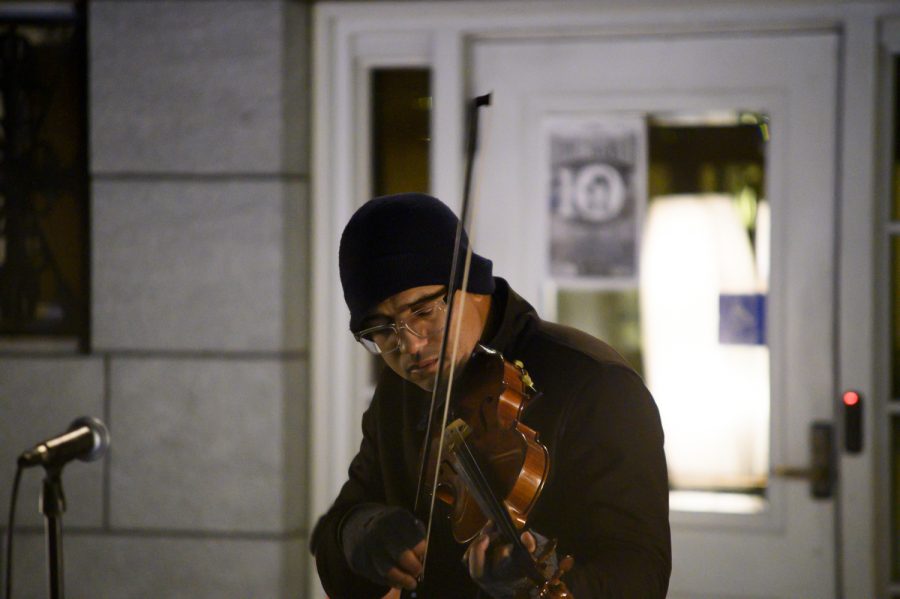 Violinist, composer and activist Daniel Bernard Roumain began his 24-hour performance at noon Oct. 24 outside of Burlington's City Hall. Roumain hoped his song "Protest Song" would shine a light on immigration policies in the U.S., he said.
The protest piece was put on in part by Vermont Symphony Orchestra where Roumain is the artist-in-residence.
The event was set up as an open mic. Poets, singers, musicians and dancers took the opportunity to perform with Roumain.
Steve MacQueen, artistic director of the Flynn Center for the Performing Arts, was one of the behind-the-scenes minds who organized and put on the event.
"[Roumain] is the perfect artist for this," MacQueen said. "It's amazing how he can fit in with anybody and everybody who comes up to play."
Roumain grew up as the child of Haitain immigrants and therefore there was personal value in this issue.
Roumain said he is aware that his strong progressive views might stir controversy.
"If anyone says something tomorrow that I do not agree with, that is not cause for me to stop," Roumain said. "In fact, I see it as the opposite. I think the collaboration is more important than the conflict."
Guayoyo, a local Hatian drumming group, was one of the groups that performed with Roumain during the event.
Member Mica McDonald said they were inspired by Roumain's background and the cause.
"The discrimation that [President Donald] Trump's administration has against all immigrants is really serious, and we believe in the message: fighting for better immigration policies," McDonald said.
McDonald said he sees music as a way of understanding things he is not usually exposed to.
"I think that music is one of the ways that people can come together and celebrate diversity in a very positive way," McDonald said. "It embodies a depth of culture that is both beautiful and powerful."
A day prior to the performance, Roumaine attended the Drugs, Demons and Dancing class as a guest lecturer.
First-year Ulee Vogel is a student in this class and decided to check out the performance downtown the following day.
One part of Roumain's visit to class involved performing in a circle around the lecture hall while a student read her poem.
"I think it was really special," Vogel said. "A lot of people in the class engage in non-traditional ways and he was able to do that. He seems to be able to do the same thing here on Church Street."
MacQueen said one of the reasons a 24-hour period was decided on was because it would grab the attention of all people in Burlington.
"The people you engage [with at] 10 a.m. to noon is so different than the dinner crowd from 6-8 p.m., who are so different from 11 p.m. to 2 a.m. crowd," MacQueen said.
Senior Carter Bradshaw attended the performance in its 14th hour.
"I think it's really great to get the UVM community involved and engaged in issues that are as important as this one is," Bradshaw said.