English professor explores music and poetry in new book
New York City is a concrete jungle, but embedded in that concrete is the history of music and poetry.  
Stephen Cramer is a professor in UVM's English department and has been at UVM since 2008. He is an advisor for The Gist, a student curated literary and visual arts journal. 
After living in the city, frequenting jazz clubs, meeting new people and hearing the mundane musicality of heavy traffic, Cramer said that his interest in music and poetry inspired his career choices.
Cramer has published a number of poetry books. His first book, Shiva's Drum, was selected for the National Poetry Series. His other books include "Tongue & Groove," "From the Hip" and "A Little Thyme & A Pinch of Rhyme."
He teaches a variety of classes, including one on music and poetry, and they inspired his newly edited book, "Turn It Up!: Music and Poetry from Jazz to Hip-Hop."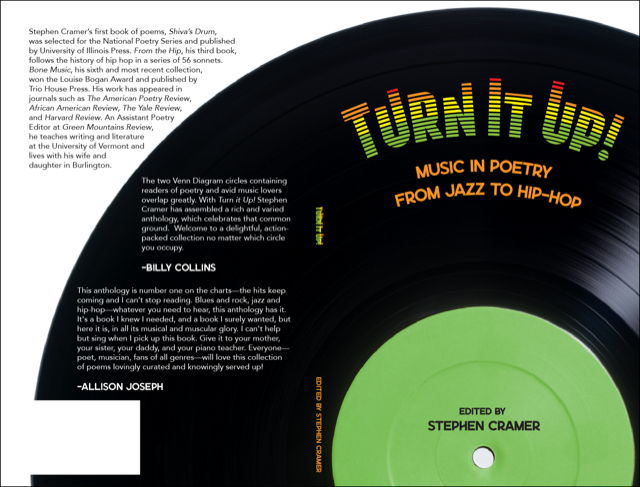 "That was the course that made me want to create this new book," Cramer said. "I used seven textbooks and I thought that all these poems should be under one roof."
The book is an anthology of musical poems about music, from a diverse group of poets. 
"I tried to have a variety of genders, sexual orientations, cultures," Cramer said. "All different people's voices are heard."
The book begins with a short introduction from Cramer. The rest is divided into sections, one on jazz, the next on blues and rock and the last on hip-hop. 
88 poets comprise the book; one poet for each key on a piano. Cramer said that it is a detail that further connects the poets to the musical world.
Cramer said that one of his favorite poems is also one of the shortest, composed of nine lines. It is by Michael Stillman, titled "In Memoriam John Coltrane."
"It's about John Coltrane, but he never refers to Coltrane or his music," Cramer said. "It's a bad pun of the guy's name, he talks about a 'coal train.'"
Senior Matthew Hanks was a student in Cramer's Introduction to Creative Writing course. He said that "Turn It Up!" is unique because of the variety of styles.
"When it came to "Turn It Up!" I had expectations that it would be a book carefully collected with a lot of love," Hanks said. "Usually you have anthologies based on eras or decades, rarely do you see an anthology of musical poetry."
Hanks said that Cramer is an engaging professor and brings his passion for music to his classes. They both enjoy rap and hip-hop music. 

"He would come into class on another level in terms of his energy, and brought that to the classroom," Hanks said. "It was inspiring, everybody was just as energetic as he was because he brought that to the table.
Neil Shepard is a retired professor of Johnson State College. He teaches poetry workshops at Poets House in Manhattan and is a Board member of Sundog Poetry, which is associated with publishing Cramer's book.
"These aren't just random poems about music, these are some of the most famous poems about each musical genre," Shepard said. "What a privilege to have jazz poems by James Baldwin, Mark Doty, or rock n roll poems by Billy Collins, Carol Ann Duffy etc, etc."
Shepard and Cramer have been friends since meeting in a bookstore on Church Street years ago. Shepard has published Cramer's work in Green Mountains Review, and said that he knew "Turn It Up!" would be special.
"There's incredible richness and variety here — heartfelt poems that run the gamut from comedy to tragedy," Shepard said. "You just have to have this anthology to bring some acceleration and uplift to your day, whether you're in COVID-19 lockdown or in the new world thereafter." 
Cramer acknowledged that there are limitations in trying to express the essence of music via poetry. 
"There's a quote: 'Writing about music is like dancing about architecture;' some say it can't be done, that writing and music are completely irreconcilable," Cramer said. "The poets in this anthology have responded and their work is all the richer for the exchange between music and poetry."
"Turn It Up!: Music and Poetry from Jazz to Hip-Hop" was published on April 30, 2020. It is available on his website and will be available on Amazon in September 2020.