New fashion magazine inspires activism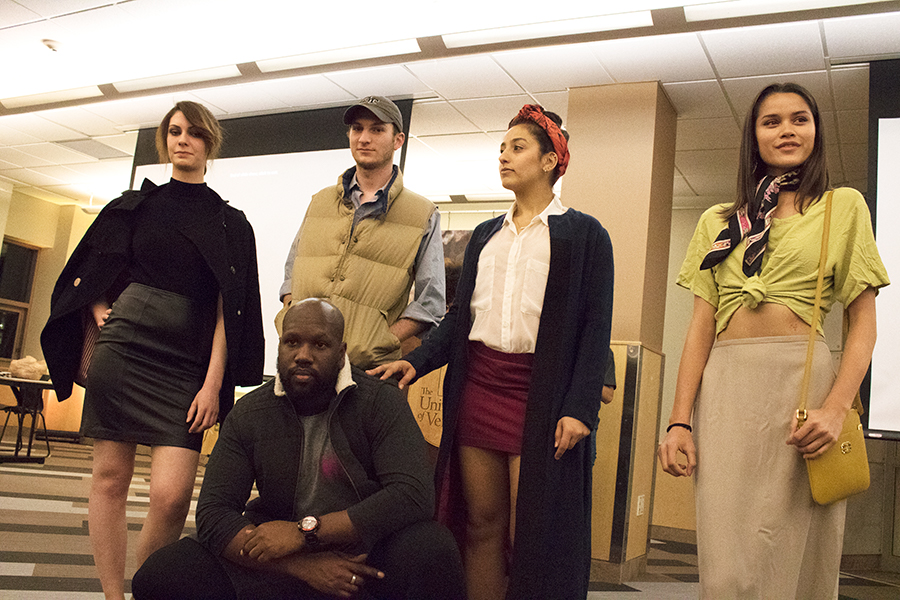 The Mt. Mansfield Room became part craft fair, part thrift store in honor of Earth Week.
UVM Program Board and CARI magazine hosted a sustainable fashion show at 7 p.m. April 24 in the Davis Center.
The fashion magazine was started by junior Naydeline Mejia and sophomore Amelia Dodds in January 2018.
"CARI is a fashion magazine that focuses on linking fashion with activism and social justice," Dodds said. "We want to push the envelope forward, break some rules and show different body types and skin colors in this form of media."
CARI stands for creativity, activism, representation and inclusivity, Dodds said.
Mejia is also a member of the UPB production team. She and a fellow member, senior Erika Torres, decided the two organizations should collaborate, Mejia said.
The magazine has spent the semester recruiting and creating content.
"We have writers, photographers, models and social media managers," Dodds said.
She said the first edition will be available online before finals begin.
Dodds and Meija were united by their shared interest in fashion and activism.  
"I grew up in New York City, so I've been surrounded by creativity my entire life," Mejia said. "It wasn't until I got to UVM that I became more concerned about fashion's impact on the environment."
Mejia feels the harm caused by the fashion industry is not talked about, so she started her own blog, where she documents her journey to fill her closet with only thrifted clothes, she said.
"Thrift shopping is not only good for the environment, but its helps your bank," she said.
For the fashion show, CARI models showed off outfits sourced only from thrift stores.
One model sported a full-length coat that was originally purchased for $100, but thrifted for only $25, Torres said.
The clothing was provided by local Burlington thrift stores Dirt Chic and Battery Street Jeans.
The event brought together other students who are environmentally conscious. Student vendors sold handmade jewelry, hats and other accessories.
First-year Mia Vaccaro was selling necklaces with pendants full of lavender sourced from old tea bags.
"I never thought I could start a business until my brother encouraged me," she said.
Vaccaro wasn't the only artist making necklace pendants from a sustainable material.
First-year Carolyn Balparda creates pendants from postage stamps.
"When a family member passed away, we discovered he had a huge collection of stamps from all over the world. He was kind of a hoarder," she said.
Balparda started her business, Cranberries and Gold Yarn Co. last year when she discovered taking time to be creative was beneficial to her mental health, she said.
Junior Gabriella Coppola Flynn started her business, Prickly Pear Hats, in 2017. She started making knit hats, but then expanded to ball caps embroidered with succulents.
CARI is currently not a SGA-funded club. Dodds said the group is working on becoming official, and is confident they will be approved.