Grand Point North attracts artists from near and far
Local musicians took the stage on the waterfront, bringing the community together downtown. 
The ninth annual Grand Point North music festival, organized by musician and Vermont native Grace Potter, took place Sept. 14 and 15 at Waterfront Park in Burlington.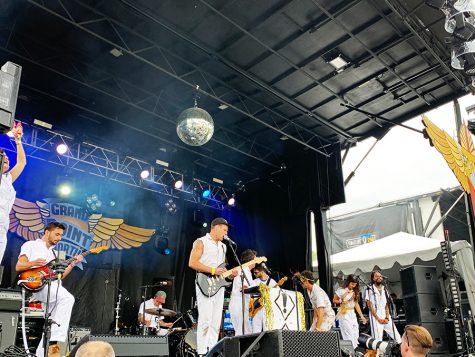 Senior Lili Traviato opened for the festival on the second day under her stage name Princess Nostalgia. 
"When I was about 10 I had GarageBand and I started just messing around on there and making beats, and I've been teaching myself how to produce ever since," Traviato said. GarageBand is an amateur music-recording application. 
After her recent accomplishment of performing at such a major festival, Lily Traviato said she is excited to continue growing as a musician, both next year as a senior at UVM, and to pursue a lifetime of making music. 
She performs all around Burlington at small venues, but this has been her biggest gig to date, Traviato said. 
"It was an awesome experience to be in such a professional environment," Traviato said.  
The lineup featured acts such as Grace Potter, Rainbow Kitten Surprise, Gov't Mule and Lucius. 
Burlington-based punk rock band, The Bubs, use live performances like this festival as a way to show some personality as a band. 
Derek Proulx and Lydia Kurn are two members of the local band, The Bubs.
Proulx said Kurn came up with the idea of playing a cow's jaw bone with a drumstick as a part of the ensemble. 
"It is a glittery, golden, magical, mystical cattle bone," Proulx said. "It's running out of teeth, every show there's like one or two less molars in there, but I think it's gonna go into a collection of abused animal parts years down the road."
The festival naturally helps promote the arts and small businesses that enrich the Burlington community and draws in tourists to promote economic growth at the local level. 
First-year Andrew Connelly, attended the festival both days. Connelly spent time with Benny Yurco, the guitarist from Grace Potter's band after the first day of the festival. 
Connelly met Yurco through his uncle, Scott McMicken who is a member of the band Dr. Dog, who performed at UVM FallFest last year. 
Though he was in high school at 2018 FallFest, Connelly attended to see his uncle's band perform. 
"The Grand Point North festival is cool because it brings people together to enjoy good music, but it also helps smaller artists grow," Connelly said.