Guerilla Girl tackles inequality in the arts
"This isn't your typical lecture. It's a party," Donna Kaz said. With no preamble, she began to throw bananas into the crowd seated in the Fleming Museum's Marble Court.
The Fleming Museum hosted Kaz, a retired Guerrilla Girl, Oct. 30. The talk was titled "Push/Pushback — 9 Steps to Make a Difference with Art and Activism." It featured a step-by-step process that the group used to help form their activist platform.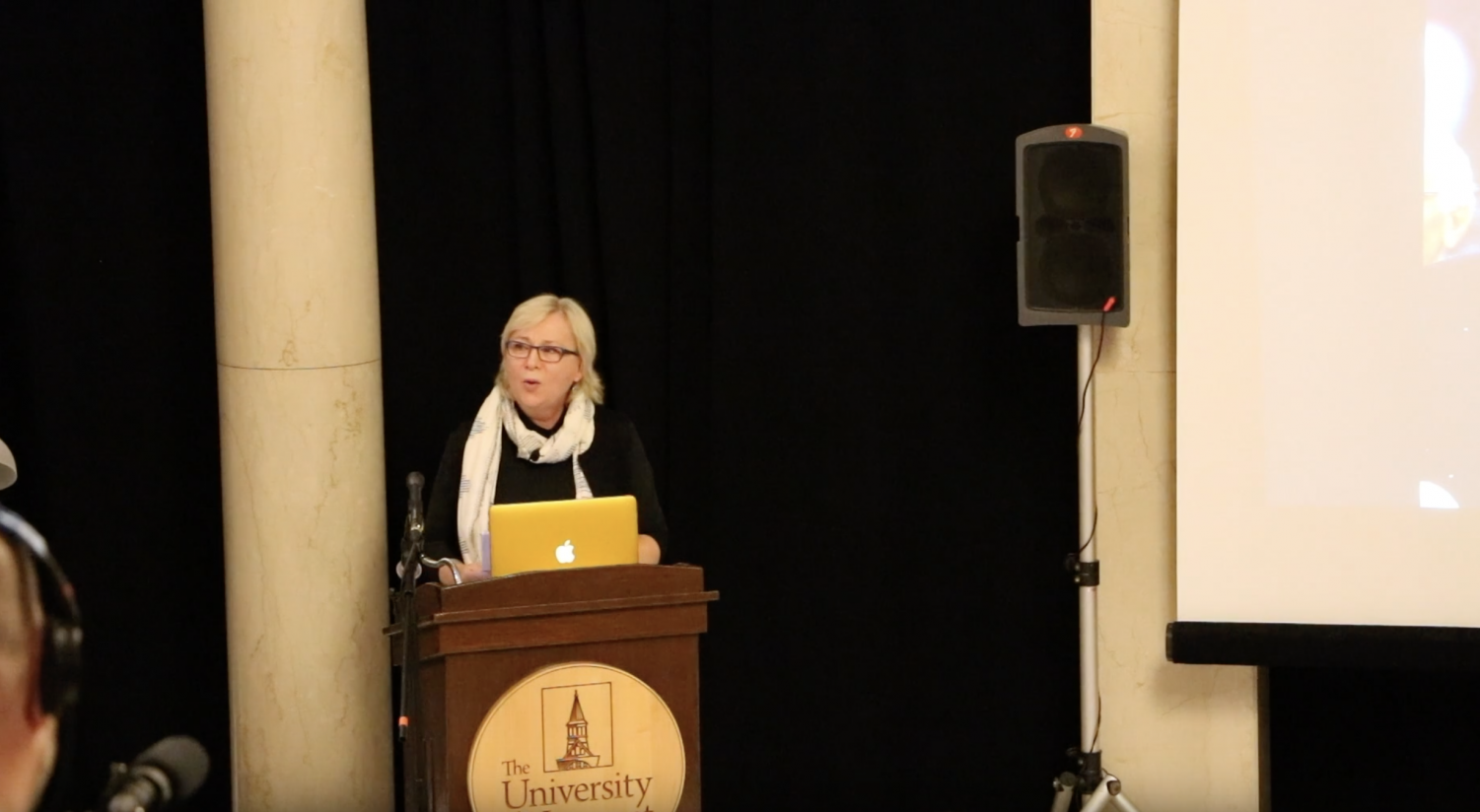 Amanda Martino

The Guerilla Girls, formed in 1985, is an intersectional feminist group dedicated to fighting sexism and racism within the arts. Members wear gorilla masks in public in order to protect their anonymity, Kaz said.
"For 40 minutes, this will be a sexist-free zone," Kaz said. "For the duration of our time together, everyone is a feminist."
Kaz wanted to be an actress when she first went to New York City. She ended up joining the Guerilla Girls in 1997 when the group was experiencing a lull in activity, she said.
She adopted the name Aphra Behn after a 17th century female poet. All of the Guerrilla Girls take names after dead female artists to bring awareness to the existence of these women in the arts.
She explained the various ways the Guerilla Girls raised awareness about issues of sexism and racism in the arts, from putting stickers in various theater bathrooms to teaming up with the Art School Cheerleaders, another feminist activist group from Boston.
First-year Olivia Nye found Kaz's presentation to be refreshing and inspiring, she said.
"I hadn't heard about the Guerilla Girls before this," Nye said. "I liked that her presentation was very accessible."
First-year John Miranda liked how Kaz looked at activism as a process.
"It makes me want to attend more events on campus and spark change as well," Miranda said.
Kaz explained that humor has always been a tactic the Guerilla Girls have used.
"Humor is a weapon," she said. "If you can get people to laugh, you can get them to listen."
After years of being behind a mask, Kaz felt that she could inflict more change by telling her story at college campuses.
"My book came out and then Trump happened, so I thought there was more that needed to be said," Kaz said. "I'm just trying to be an upbeat feminist."